Retail display fixtures and shelving for liquor stores that cater to the unique merchandising needs of highly fragile, heavy, and sometimes expensive products are essential to the success of your liquor store.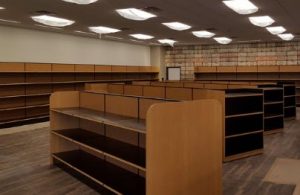 Let the experts at Midwest Retail Services assist you in the design and installation of your liquor store shelving. Selecting the best manufacturer, style, and specifications of your liquor store shelving, displays, and accessories can make your merchandising efforts of wine, beer, and other spirits simpler and stress-free while creating an easy and attractive shopping experience for your customers.
In the article below, we asked our liquor store fixtures specialist John Vetter share a few problem-solving ideas and advice for improving the shelving and fixtures in your liquor store.
Liquor Store Shelving Wall Units
We had a liquor store client who wanted to get more products out of the storeroom and onto the sales floor. We suggested using a deeper base deck on the gondola shelves running along the walls to allow for more shelf space without adding more shelves or more gondola units.
Use every inch of your space if applicable to promote your products. Every Liquor, Wine and Beer bottle label has its own unique brand and colors. So it's pretty simple to have your store pop with color simply by featuring more products. Remember — you can't sell it if it's in the stockroom! Getting accurate measurements of your floor space while keeping in mind the sizes of your bottles or cases is especially important in a smaller store where every square foot counts. And if you can't spread out, consider going up — 84″ tall shelving might be an option depending on your space. Give us call with your challenge and we'll share some ideas that might help you.
Island Gondola Shelving Units for Liquor Stores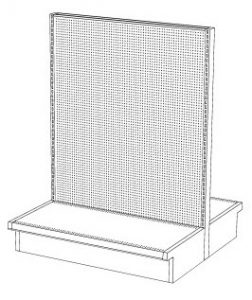 A liquor store owner contacted us asking for ideas to help reduce shrinkage in one of their stores. In this case a shorter gondola shelf was a better solution. We recommended 54″ high island shelving units so their store team could keep an eye on the sales floor from the register. The lower height of the gondola units eliminated many blind spots and allowed employees to survey the entire store at a glance from their checkout area.
These two-sided gondola island fixtures fixtures lets you keep the height low enough so you can observe your entire store at all times. This helps to not only deter theft, but allows for a better customer experience. Your team will be able to observe customers who are having trouble locating their favorite brand or bottle and offer assistance.
Get quick pricing comparisons on Gondola Shelving by using our Gondola Shelving Calculator.
Shelving End Caps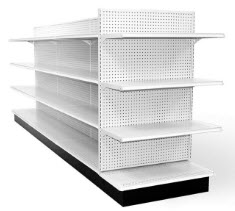 Use end caps on the ends of your island gondola units to feature new products and merchandise on a weekly basis. Refresh your end cap often to promote seasonal spirits and raise awareness of popular trending products.
Try this interesting experiment: stand at the entrance of your liquor store and look around as if you are a customer entering for the first time. See what your customers see when they first enter and make note of what you observe. This information will help you when planning the position of your displays and aid in maintaining an effective flow of traffic for your shoppers.
Aisle and Gondola Signs
A liquor store with a small customer service team needed help producing in-store signage to help reduce the amount of time their clerks spent coming out from behind the counter (where they were ringing up customers at the cash register) to assist other shoppers in finding common products (like red wine) on their shelves.
Signage for your aisles, uprights, slatwall, pegboard, and gondola tops provide tremendous help for your customers in locating the products and merchandise sections they're looking for, and eliminates much of the time required in showing customers where standard products (like red wine) is located.
Customers have the convenience of finding the products they need without any wait time, so fewer sales are lost when the store gets busy. Store signage can be customized for your store's products and even branded with your logo.
Label Holders for Shelving C-channels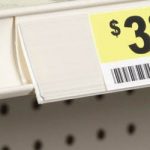 After investing in your store fixtures, keep your shelves looking organized, neat, and clean by using snap-in C-channel label holders. These economical merchandising accessories not only look good, but they keep your customers updated and informed on product pricing and promotion on each of your products.
These label holders snap-in to the C-channel of your gondola shelving and help prevent standard paper tags from falling out. They keep your price tags in place and in view.
If you are a liquor store owner or manager and would like John's advice for improving your liquor merchandising and display, click here to contact us and ask for John!
Midwest Retail Services provides your liquor store with dynamic display shelving that grabs the attention of your customers and helps boost sales. Whether you are looking to open a new store, update your existing fixtures, or simply replace a few worn parts to freshen the appearance of your location, you can rely on our retail industry specialists to recommend the right combination of display fixtures to suit your needs!
(Visited 7,236 times, 1 visits today)