Moving Product Faster:
Floor Stack Displays
Small or large, products move faster when using floor stack displays.
Floor stack displays are commonly used to draw attention to hot-ticket items, thereby making them easier to find and consequently easier to purchase.  However, floor stacks are not necessarily mean bulk displays.  Small stacks of just 2'x2' are equally effective as significantly larger displays.
The value of floor stack displays is its eye-catching presentation, which increases customer engagement with the product.
Dynamic packaging from the manufacturer using color and graphics plays a pivotal role in allowing the product to attract attention.  Floor stack displays often expand upon dynamic packaging by utilizing attention-grabbing decorations to pique consumers' interests.
For example, using a color skirt around the base of a floor stack display can reflect a brand, season, or event that promotes the product as a 'must-have' while contributing to the store image.
Customers have expectations when displays are built to attract special attention, and it's essential for retailers to add extra value in price, selection, or both.  Retailers can maximize the effectiveness of floor displays by changing merchandise or moving them regularly.
Keep these displays fresh with fully stacked products and well signed with good value and shoppers will be motivated to buy.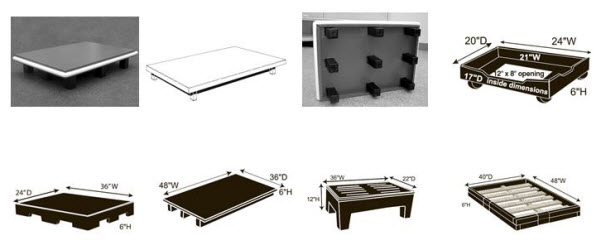 Other than products like furniture or outdoor grills, most products displayed on floor stack displayers are items found in regular gondola shelving displays. The primary role of floor stack displays is to expand, accentuate, and promote regular products or special buys.  They are also great for introducing a new product category and present them in a way that motivates customers to buy.
Carefully managed floor stacked merchandise can enhance any store's image. However, retailers must be cautious of overcrowding displays, as messy or busy-looking displays will be passed over. To avoid overcrowding, keep your display focused on a single item or a single point of interest.
Additionally, utilize display platforms whenever possible. Display platforms keep displays within a defined floor space, and they keep products from shopping cart or floor cleaning machine damage, a risk present when displaying products directly on the floor.
Floor stack displayers can come in many materials, including wood, steel, and durable plastic. Durable Injection-molded and Rotational-molded plastic platforms are weatherproof, making them ideal for both interior and exterior use.  Small displayers can be carried and placed on the sales floor.  For larger displays, Pallet-jack accessible platforms make it easy to place and move around the sales floor.  Locking casters is another platform option to move the display from one location to another.
As with any display, floor stacked merchandise should be an integral part of your sales floor strategy.  Selecting the right display platform to use is important.  Take care to ensure your floor stacked display will not only accommodate the products you wish to display but also are the right size to fit for your store layout.  Additionally, select the platform style and color that fits your store's image.
Finally, determine if the floor display platform is suitable inside and outside for both indoor and outdoor use, thereby giving you the most flexibility with your display options.
Display Tip: products displayed on platforms should not be so high that they restrict customer vision or be unstable.
For more information about floor stack display fixture products and options, contact Midwest Retail Services today.  Call 800-576-7577, use our online contact form, or email us at info@mw-rs.com.  One of our display experts will be available to help you!
(Visited 4,555 times, 1 visits today)