After hearing the expected delivery date for a large run of custom retail fixtures, one client asked a Midwest Retail Services team member "Why will it take so long to get this cabinet order? Don't manufacturers just have them sitting in a warehouse?"
Given our era of instant delivery and access to just about everything (who doesn't love on-demand movie streaming, instant music downloads, and delivering any book you want right to your phone??), it's an understandable question. Whether someone is told their order will be there in one week or eight weeks, who wouldn't want the option to have it sooner?
Our team has decades of experience with just about every retail store fixture imaginable, so if they know time is of the essence for you, they will provide you with multiple options to help get your order to you as rapidly as possible. In this week's Ask The Team question our fixture fanatics provide you with some insight into how your shelves are produced and what steps can be taken to get your order in your store more quickly.
How long will it take to get my retail shelves?
We're glad you asked!
We posed the question about to our crack team of retail fixture experts and they came up with some great ideas and advice.
Gary Kroneberger, Sales Executive
One of the first questions I ask a customer is "when do you need the shelving?", quickly followed by questions about their budget and any preferred manufacturing materials. The answers to these questions of timing, material, and budget are going to help determine whether it's in the client's best interest to go with custom fixtures or find something more readily available. If a customer has the time, custom fixtures aren't necessarily going to cost more than off-the-shelf fixtures if the right production run is needed. Also dependent on turnaround time is choosing between a domestic or imported source. In a lot of cases I have seen marketing campaigns get delayed due to the enormous cost savings by importing. If the client is unsure of the answers to the core questions, I present different options regarding stock, custom, domestic, and import.
Here is a quick checklist and typical time frame for developing a custom display:
Submit pricing based on the fixture design to verify the design is within the client budget. (1 week)
Develop a final rendering or drawing receive approval on the prototype being produced. (1-2 weeks)
Have the prototype approved by the client. (2-4 weeks)
Produce the custom display per the approved prototype. (6 weeks via Domestic; 8-12 weeks via Import)
There are many things to consider when going the custom fixture route. One of the most important is customer safety. Midwest Retail Services pays special attention to weight loads going on the fixtures, any exposed sharp edges, could a child climb on the fixture, could the design cause injury to a customer or worker, is there a possibility it could tip over? These are just some of the things our team take into account during the process. This always takes time to work through, but once a client has settled on a design, they get exactly what they want.
Mike Welsh, Customer Sales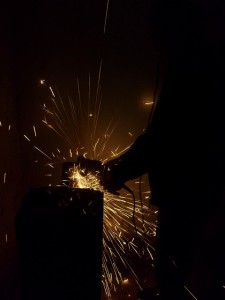 Most cabinet production shops work on a first-in/first-out basis. They receive orders for customers and review the complexities of each order. They may need to order material and engineer the custom cabinets. In most cases they will need to order laminate, which usually takes a couple of weeks to arrive (not everyone wants white or golden oak cabinets!) These laminate orders are usually placed weekly in order to meet the manufacturer's minimum quantities. After the laminate has been received, it can be applied to the wood panels and assembled. This all takes time. Combine these elements with the fact there are dozens of order in process which require careful attention to detail within production and manpower capabilities, and it may end up being several weeks for some custom deliveries — plus transportation time. Many of the items we sell really are made-to-order for our customers, not just sitting around somewhere in a warehouse. Your order may be getting more personal attention than you think!
Donna Cossin, General Manager
Gondola shelving manufacturers like Streater, Lozier, and Madix, keep only minimal stock in their warehouses; most jobs are made to order. The length of your lead time depends on the product mix of your order, the color finishes of the product, and whether you are ordering during peak season or over the holidays (when many manufacturers close down for inventory). For these reasons, when you are planning your fixture needs (whether for a new store or to supplement an existing store) please plan on a lead time of anywhere from 3 to 8 weeks.
The good news is Midwest Retail Services is a stocking distributor for all three of these brands!
Streater is available in Décor White, Dove Gray and Black; Lozier is stocked in Platinum (Charcoal Black will be added soon!), and Madix is stocked in Sahara. If your items are in stock at the time of your order, they can usually ship within a week!
If you regularly order non-stock colors, sizes, or items, ask us about a blanket order to hold product specifically for your use that would always be in-stock when you need it.
When anticipating fixture needs, planning is key.
Contact us with the specifics (or even the generalities) of your requirements and our team will be able to guide you in the best ways to get your fixtures to you when you need them.
The experienced professionals at Midwest Retail Services can help you find the solution that will work for your unique situation. Just give us a call at 800-576-7577 or email us at info@mw-rs.com. 
(Visited 55 times, 1 visits today)