Maximize Shelving in a Small Retail Space
If you're running low on space in your retail store, it can mean one of two things. Either your current products aren't selling, leaving no room for growth, or you've expanded your inventory and product selections, which is a much better sign for your business. But just because you have more items available to your customers, doesn't mean you've magically acquired more room to display it. For many small stores, a creative strategy is necessary to expand smoothly without sacrificing appearances.
If you're running out of room, sometimes the best way to go is up.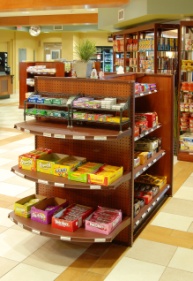 Investing in taller display shelving can relieve crowding while allowing you to keep related product categories closer together. You can still keep higher priority products in the center selling zone, while storing less popular or slower moving products higher up.
Your solution is to adjust the height of existing shelving to squeeze more out of what you have. By resorting products by height, you can reduce the unused space between shelves. Of course, you don't want to overwhelm your customer with an overcrowded and disorganized store, but well-planned, full displays should have a positive impression.
You know that display that doesn't really make sense, but you really like the way it looks? Or that empty space in the corner of your store penned in by ill-fitting display units? It's time to re-imagine and reorganize aspects of your floor plan that are less than ideal. Make sure you're taking advantage of all available space by focusing not just on the size of your shelving display units, but also on the shape of them.
For example, square and rectangular shaped displays make a lot more sense than circular ones when you're working with space constraints. Also, remember to use the walls of your store as assets for visual impact and added display space. Finding the right kind of wall display fixtures can maximize space and profits.
When jam-packing your store full of your growing inventory, it's more important than ever to focus on the overall look of your space. There's no need to sacrifice style for substance, so focus on incorporating charming and attractive pieces that add character to your floor plan. Your customers will be open to a slightly more cramped environment if it's an otherwise more comfortable and inviting place to be. Capitalize on your coziness and uniqueness.
Whether you are planning your very first store, or expanding the inventory of 20 stores at once, good display shelving is the key to keeping things organized and attractive to your customers.
Visit Midwest Retail Services to explore a wide array of shelving solutions for your business.
If you have any additional tips for taking advantage of the space you have, please share them in the comments section below!
[msh_feedburner]
(Visited 864 times, 1 visits today)