When it comes to choosing fixtures for your entire store, a single department, or just one merchandising section there are a myriad of products, brands, and materials from which to choose. To help our customers make better decisions, we're sharing the professional insights and opinions of our experts store fixture consultants. Our team has decades of experience in every retail niche imaginable and put their combined knowledge to work for you in answering this week's question for our Ask The Team article…
What are best uses for Wire retail fixtures and shelving?
Our team had a lot to contribute on this subject, but we couldn't include every idea for Wire fixtures! If you'd like us to elaborate on any of the answers or recommended Wire shelving products, just call or email us: 800-576-7577 or info@mw-rs.com.
Chris Bell, Sales Representative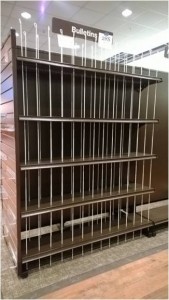 Wire is an economical way to give your store a contemporary look. Add wire shelving to certain areas of the store and then paint them a different color than the rest of the metal shelving. I especially like the 4-Post Wire System.
Another great way to use wire is by adding them in your Gondola or Wall sections for backs instead of peg or solid backing. A wire grid back gives your store fixtures a whole new look! Give me a call for more ideas.
Gary Kroneberger, Sales Executive
Wire is most commonly used as a way to better merchandise your product. It is inexpensive and very durable. I have seen wire used in just about every segment of retail today. It is used in pegboard, slatwall, on gondola shelves, and freestanding displays.
There are many stock options available for wire products such as fencing, front to back dividers, wire baskets, and the list goes on and on. Wire is easily customized to fit your products specific merchandise needs if you want to work on a custom display.
With competition in retail today and the proliferation of products, companies are always looking for ways to make their merchandise stand out. I have been involved in several tests that have resulted in a 25% increase in sales due to a Custom Wire POP display. You really have to ask yourself if you can really afford not to do this.
Matt Ray, President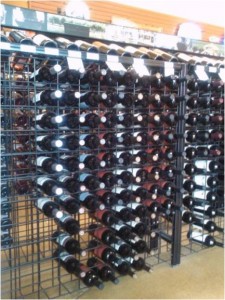 Wire fixtures can create an open appearance that allows the display products to shine.  The minimal amount of material surrounding the merchandise gives the appearance that the product is floating.  A Wire fixtures display can be lighter in weight and can often ship knocked-down.  This helps reduce shipping costs and alleviate shipping damage.
Wire can also be very effective as merchandising accessories.  Wire can be adapted into various shapes and sizes that specifically meet your display and merchandising requirements.  The combination of wire accessories and gondola fixtures really opens up great display possibilities, especially those hard-to-merchandise areas where a standard display accessory just won't work.
The experienced professionals at Midwest Retail Services can help you find the solution that will work for your unique situation. Call or email us today: 800-576-7577 or write to info@mw-rs.com.
(Visited 57 times, 1 visits today)