Store Fixture Installations: It's More than Just Fixture Assembly
This is not a new story, but it is a story most every store-owner or manager essentially says, "We are glad it is over," so they can get back to running their store and serving customers.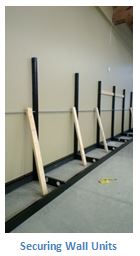 No one knows this better than the individual assigned the install task, determined to make this process less stressful, run smoother, with a great outcome.
For store-owners and managers with lots of experience, this is a refresher. For those first to experience, this is a must-know.
 The Must-Knows:
Planning
Lead Time
Purchasing
Execution
Clean-up
Planning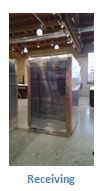 The number one problem of store fixture installations is lack of sufficient planning.  To plan well you need to know what questions to ask and what you should expect to encounter.
Develop a check-list of things you know and of those you need answers to.
For example, your planning check-list should examine the scope of the installation with items such as:
Available receiving dock
Fork-lifts, pallet jacks, hand trucks
Staging areas
Disposition of existing fixtures
Re-arranging/integration of new with existing fixtures
Adequate Staffing
Time limits and end date
This short list will to get you thinking about your installation.  It does not include any assembly or disassembly of new or existing fixtures or displays.
This is another set of skills.
Click to request an installation check-list.
Lead Time
Event planners will tell you to plan backwards.  Know your anticipated opening date and work backwards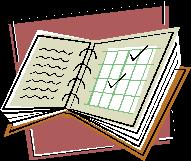 from there, calculating amounts of time to handle each step of the installation process.
Invariably, allotting inadequate time will become upsetting when you are unable to open when expected, having already set grand opening advertising!  Things that affect lead-times are the manufacturing and production of the display fixtures; freight transit times; availability of staff or a professional installation team; and if it is a new space, expected occupancy/construction completion date; etc.
Purchasing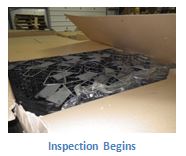 You cannot remember everything, so make another list of what you have to buy.
Certainly your new display fixtures and shelving, peghooks and accessories, checkouts and service counters, POS systems, security devises, even trash cans.
Get everything ordered with estimated delivery.
Better yet, you might want to work with a vendor that will consolidate your purchasing and coordinate all deliveries.  This is a great time-saver and gives the store owner or manager time to focus on running the business.
And if you are remodeling, this time can be used instructing staff to handle customers with extra care, making sure customers are not inconvenienced and can find what they need once the install begins. Staff can also generate a little excitement for customers, creating positive anticipation for what is coming.
Execution
This is perhaps the most nerve-racking time, when things really start to happen: receiving, inspection, assembly/disassembly, etc.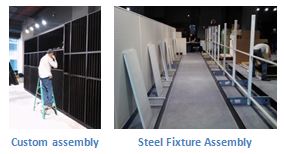 As shipments begin arriving look for what might be missing, or worse yet, damaged items.  This is also where knowledge and experience executing this phase pays dividends.
If you have not handled installations consider professionals. 
Professionals cost money but we hire them to ultimately save us money through their knowledge and efficiencies, reducing the overall time to your Grand Opening.  If plan-o-grams are available, your install team can pre-set shelves ready for product, another great time saver.
Professional installers know the drill too.
They can receive and check-in the shipments of display fixtures, report damage, contact vendors for replacements, handle staging, efficiently assemble or disassemble fixtures, and handle cleanup.  And they keep you on schedule.
Another advantage using a skilled install team, if hired at the beginning of the project, is they can analyze the scope of your installation, help plan it, and execute it to completion.  If mill work is involved, many install teams have carpenters that can make minor field adjustments or propose solutions to problems on the spot, saving you valuable time.
Clean Up
This is also not something to render little attention. All remodels and new installations have trash.  This must go somewhere.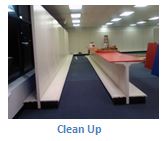 Ordering an adequate dumpster and scheduling pick-ups is essential.
You must also clean the sales areas sufficiently to receive product and have your merchandisers begin stocking shelves and grand opening feature displays.
Nothing feels better than a clean store, fully merchandised, anticipating a grand opening! No one knows this better than a professional installer who makes sure your merchandisers can begin on time.
For more information about store installation, contact Midwest Retail Services today.
Call 800-576-7577, use our convenient site link, or email us at info@mw-rs.com.  One of our installation experts will be available to help you!
[msh_feedburner]
(Visited 139 times, 1 visits today)