Our shipping manager recently had an appointment to speak with one of our freight carrier representatives. During the meeting, the carrier rep shared the following photograph of a shipping dock belonging to a competing freight carrier terminal in the same market…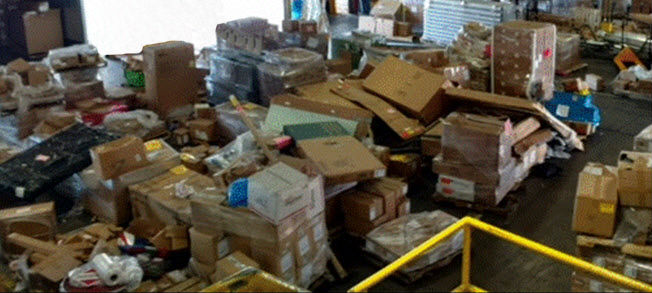 The revealing photo shows what appears to be hundreds of individual packages and skids of boxes haphazardly stacked in chaotic disarray on the dock of a large third-party freight carrier. There is visible damage to many of the boxes in the photo. Thankfully the photo is from a freight carrier we don't use, but we still edited the photo to remove anything that might identify the guilty carrier (it's a major brand and most people would likely recognize the logo).
One important point illustrated by the photograph is that no matter how carefully we at Midwest Retail Services might pack an order for shipment to a customer, once the order is picked up by a freight carrier and leaves our dock (beginning the transit process) — its care and handling is out of our control (and yours).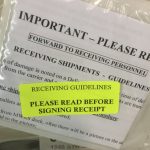 Something we stress to all of our customers in our Receiving Guidelines is that it is extremely important to inspect all deliveries to identify potential damages before signing and accepting any shipment of retail or pharmacy fixtures. If no damage or suspicion of damage is noted on a Delivery Receipt at the time of delivery, damage responsibility is removed from the carrier and any damage replacement costs are transferred to the customer.
For any orders shipped on pallets from Midwest Retail Services, we include photos printed on the outside pallet label showing our customers the exact condition of the shipment when it was picked up by the freight carrier and left our facility.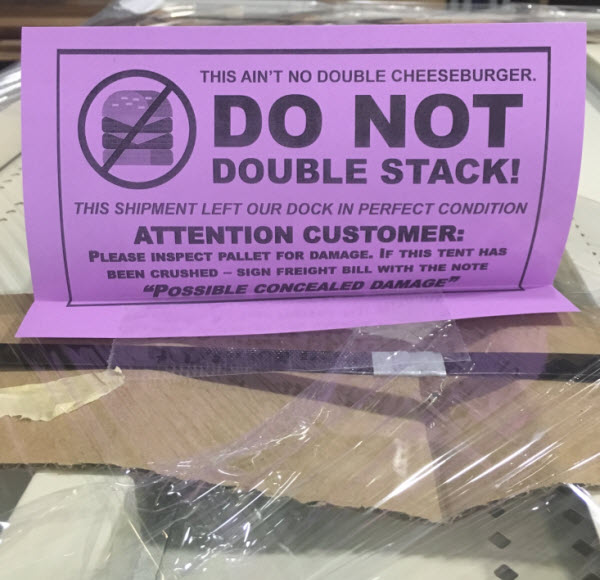 Here are steps to follow when accepting a delivery from a freight carrier:
Count the number of pallets and/or pieces delivered
Check pallets and pieces for any sign of damage or rough treatment

Look for…
Crumpled corners, top, bottom & sides
Dented or torn boxes
Torn stretch wrap
Broken skids
Signs of re-packaging during transit

Compare your counts and observations to the freight carrier's receiving documents before signing
Sign "Clear" if no issues are found
Follow these steps if you find damage to your shipment:
Take pictures of the shipment and the damaged areas

If a camera isn't available, use your mobile phone's camera and send them to your email account

Make a written list of all the actual damages you can see
Retain all damaged items and packaging in case the freight carrier requires further inspection or verification of a claim
Sign the delivery receipt in one of the three ways outlined below.

"Received Short" and note how many skids or pieces are missing
"Visible Damage – Pending Further Inspection" and detail the damages to items that can be seen
"Possible Damage" – Pending Inspection" and note the reason for the suspicion (crumpled corners, etc.)

We also recommend making a copy (or snapping a photo) of the way you signed your Delivery Receipt to keep for your own records
If you need to file a damage claim on order you placed with Midwest Retail Services:
Call our toll-free number 800-576-7577 to speak with a customer service representative Monday through Friday 8am – 5pm Eastern (or leave a message after hours and we will return your call as soon as possible)
Notify our customer service of your damage claim
Please have your order number to reference
If the you signed your Delivery Receipt as specified above, replacements will be shipped as soon as possible and usually at no additional replacement or freight expense. If no damage notation was made, but hidden damages are later discovered, these must be reported within 5 days of delivery. Due to the unique situations of individual shipments, cost of replacement or reimbursement is reviewed and decided upon on a case-by-case basis.
While the claim is being reviewed, do not use the delivered items and move them as little as possible from where they were originally delivered. The shipment should be placed somewhere out of the way and all of the original packaging retained until the claim is resolved with the carrier. The carrier and/or inspection agency needs to be able to rule out packaging as a cause of the damage. Keeping the original packaging is necessary in order to determine if it was a contributing factor to the product damage, and failure to save the packaging could affect a settlement agreement.
Important notes about damage claims:
Timely claims are essential — the longer damage goes unreported, the less chance a claim will be paid
Inspect your deliveries as soon as possible, even if you're going to store the fixtures for installation at a later date

After 10 days a claim will NOT be considered

If items were shipped on a customer-specified carrier, collect, or 3rd party bill — Midwest Retail Services is unable to assist in filing your damage claims and responsibility falls to the customer (but we'll help you as much as we can)
Damage replacements are processed as a new order and may require the same amount of time to fulfill as your original order, so please notify us as soon as possible
Midwest Retail Services and our manufacturing partners take exceptional care in packaging products for shipment. The vast majority of orders arrive at their destination with no damages; but if damage does occur, noting that damage (actual or possible) along with any other discrepancy at the time of arrival, is essential for the favorable settlement of a damage claim.
Have more questions on this subject?
Please send us your questions via our contact form or call customer service at 800-576-7577.
(Visited 538 times, 1 visits today)