At Midwest Retail Services, we understand that your retail shelving has to present products in the most attractive manner possible.
Similarly, you understand that the placement of products on those shelves can influence the behavior of your customers, making them more comfortable spending more money in your store. Each location can serve a specific purpose, and some areas are more important than others.
If you own or operate a retail store, you're most likely familiar with merchandise outposts, sometimes referred to as P.O.P. displays.  Even so, the New Year is a fantastic time to reevaluate your outpost strategy. You should be getting as many sales out of these critical components as possible.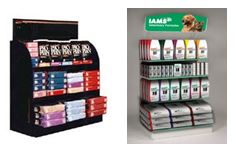 Merchandise outposts are permanent or temporary displays of products positioned near aisles, or even within the aisles themselves.
They are meant to make customers stop and think at just the right moment—when they are in the buying state of mind where they will be more likely to make an impulse purchase of the product presented.
Merchandise outposts present an opportunity to make a shopper stop and think, to interrupt their thought process during what they might have thought would be a quick one-and-done shopping trip.
It might make them realize that, on second thought, it would be nice to bring that shareable treat to the holiday party they're on their way to. They are running a little low on laundry detergent, so why not just grab it now? In short, they needed something without even realizing it.
Merchandise outposts are also often employed in cross-merchandising techniques, where products from different departments of the store are presented together to remind customers of their compatibility. One of the most common applications is the outpost of batteries in or near an electronics aisle.
This is also the reason why one might find Ping-Pong balls or playing cards in the beer aisle of their local convenience store.  Another basic tip would be to keep a selection of a product near the "parent" department where a customer expects to find it and/or to locate it in a high-impulse area, near or with a related product.
Merchandise outposts create an opportunity to test new products to see how well they will sell or to decide where in the store it should be located.  They add quantity to aisles during peak shopping seasons. Most of all, however, they get shoppers off of autopilot and thinking creatively, possibly leading to even more ideas for purchases in other areas of the store.
To explore outpost-P.O.P. shelving options for your retail store that could improve the effectiveness of your merchandising outpost strategy, visit Midwest Retail Services. We can help to maximize the potential of your inventory, allowing your business to grow long into the future.
[msh_feedburner]
(Visited 2,092 times, 1 visits today)