Space is not the final frontier, but it is usually something many pharmacies have very little of.
As more and more brand names go generic it is eating into whatever space that was once available. And as we boldly go into the new frontier of space robbing robotic pill counting machines, we need to become more efficient in everything we do.
As new pharmacies open and older stores remodel, one area that is key to space efficiency is the will call area. This area is always in the pharmacy and usually near the checkout counter or located centrally for access to the will call pick-up window as well.
Working with a store planner can help optimize the location.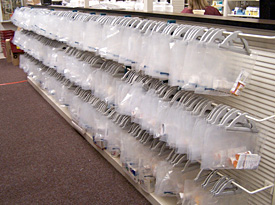 There are different ways to deal with the endless number of finished prescriptions.
Three options to consider when planning for a change, expansion or remodel:
The Hanging Bag System
The Bin System
Automated Systems
Probably the two most efficient and cost effective ways to deal with finished prescriptions is the hanging bags system and the bin system.
Bags and bins can be purchased from a number of different companies and will all do a fine job of controlling the will call area.
When using these approaches do not forget the letter indexes, bin labels, or bar-coding to allow quick and efficient access to the filled scripts.
Major fixture companies such as Boni, Comac, Lozier, Madix, Streater and Uniweb, have systems to accommodate the hanging bag system.
These racks/ brackets & rods can fit on typical gondolas, wall units or RX bays. With a little ingenuity you can even retro-fit the classic pharmacy bays.  Similarly, Rx Bins can be set on gondola and wall unit shelves and in Rx bay shelves.
Most bins are plastic, come in many sizes and have a place for bin labels.  Even gondola and wall unit shelves can be use with wire dividers system. These HIPPA compliant systems will help you stay organized and minimize space utilization.  Best of all the bag and bin systems won't break the bank.
The next level of prescription will call are automated systems.
These systems are designed for high volume dispensing up to 1500 prescriptions per eight hour shift.  Efficiency is gained through the automated connection of software to bin location to dispensing.
Secure storage carousel units are controlled by computer, keeping track of the scripts location, who filled the order and who dispensed the prescription. Automated systems require a thorough cost analysis to determine if it is the correct solution for your operation. Get with companies like SMART Solutions, HangRx and TCGRx Workflow Solutions for more information.
Most pharmacies are already using some form of these three systems.  The key is if your requirements change and you need to upgrade, expand and/or relocate the will call within the pharmacy.  Will call systems should improve customer service allowing your employees to easily get orders to your customer.
If improvements can be made, perhaps it is time to rethink the will call area.
If you need any help getting started or want additional information regarding planning, bag and bins systems, please contact your friendly Midwest Retail Services Sales person.
[msh_feedburner]
(Visited 2,216 times, 1 visits today)