Adding a Product Focal Point : Radius Shelves to the Rescue!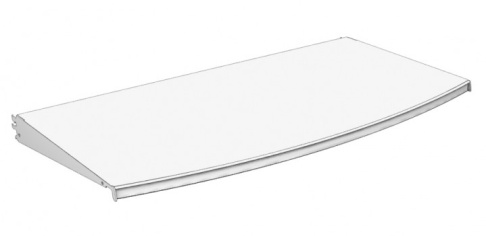 Straight rows of shelving may display products, but they may not get them noticed by the passing shopper.
It is only when you are able to stop a customer's eye movement that you begin to create a focal point, the point at which the customer will stop and linger a little longer.
But to linger may not be enough either.  To create a real display focal point, we must grab the attention of the customer and hold the eyes focused at the display.
The focal point must tell a customer what the display is all about in just a few seconds.  If not done correctly, interest is lost and maybe the sale.
Take steps to create your focal point: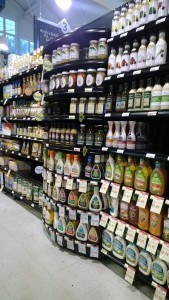 Create a display distraction (radial bump-out)
Visually tell what the display is about (product category)
Compel the customer to consider the products ( theme or brand)
Merchandise with associative products (adjacencies)
Keep the focal point and adjacent displays fully stocked
Taking these steps gets you started. We know every display cannot be a focal point.
Your customers cannot dial in to everything at once.  The focal point's true success comes from adjacent product relationships.  Once attracted to the focal point display, related products adjacent to it become more relevant and associative purchasing kicks in.
You may get one purchase from the focal point display but get two additional sales from related products beside it.  An associative product sale is just another term for an add-on sale that is made because one product leads to another, and so on.  The planned focal point display starts a purchase chain reaction.
The radius focal point should contain a special selection of products that relate to those on either side.
The focal point display could be based on a product theme, product brand, or products that appeal to a specific demographic.  Be sure your focal point display remains straight forward, easily defined and identified by your customer.
Avoid complex merchandising with unrelated products, or products that do not support the theme or brand.  This will confuse the customer and dilute the impact of the display.
Many retailers' focal point displays are solely dependent on end cap or power displays.  The in-aisle focal point display is your chance to add to your merchandising arsenal.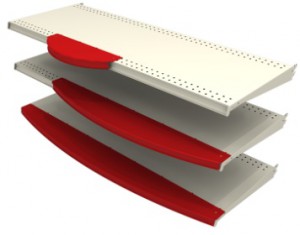 Practical Shelving
Radius shelves are practical and easy to add into your existing gondola shelving.
Base and upper shelves are interchanged with radius shelves; making it easy to create your focal point anywhere it is needed.
In some cases, different color shelves are used to further attract customer attention to the radial bump-out.  Some fixture manufacturers even offer radial fronts that clip on the front of existing shelves.
The add-on type can be full shelf width, or partial widths that create mini-radial focal bump-outs.  Taking advantage of this common merchandising tool is smart retailing and you will enjoy maximum returns.
For more information about product focal points and radius shelving options, contact Midwest Retail Services today via the link web form, calling 800-576-7577, or via email at info@mw-rs.com.  One of our shelving experts will be happy to help you and answer your questions!
(Visited 266 times, 1 visits today)