Placing signage in and around gondola shelves is tricky business. Effective signage can increase sales by drawing shopper attention to the products, educate prospects to the benefits of owning the product, advertise special pricing, generate revenue for your store from brands interested in promoting their products to your customers, and more. The trouble is, too much signage can make your merchandise areas look cluttered, small signage may not get noticed at all, large signage can block the view of the products you're trying to promote, and ineffective hooks, hangers, and fasteners can fail at securely holding your signage and you could end up having to pick-up signs and throw them away because they have shopping cart tracks on them (or having to duct tape them into place in order to keep them in position!)
This week we Ask The Team from Midwest Retail Services for some of their favorite, unique, reliable, space-saving, and most creative signage options which can be used in conjunction with retail Gondola fixtures and they delivered!
Five Awesome Gondola Signage Ideas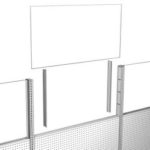 Chris Bell, Sales Representative
I like the Sign Channels from Lozier. They are really easy to order and install. They fit into all standard Lozier Uprights. Just order two channels per section. They are made out of steel and can be painted any color. They come in two heights 18" and 24" and hold ¼" thick customer supplied material. Use signage channels on top of any Gondola or End Cap to make different sections and departments, or to promote a sale!
Mike Welsh, Customer Sales
The most popular signage items for my customers are Arc Arms or Over-Aisle Sign Holders. They tell the story and stay out of the way! The sign arms attach to your gondola fixtures and hang out-and-above your aisles. These are great for merchandise category signs because they allow your shoppers to see the signs while they look down the aisle. Arc Arm signage is especially effective for pharmacies.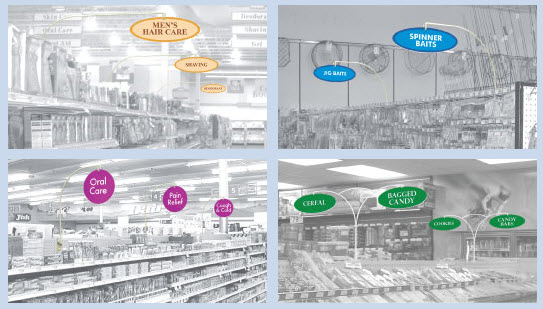 Gary Kroneberger, Sales Executive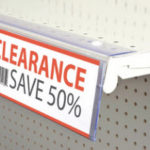 My favorite shelf sign holder is the 3" high PETG sign or label holder that runs the length of the shelf. Typically this is 48" long. This gives your customers information to help them decide on what to buy. I always ask myself what is the difference between the products on the shelf? This is a great way to have a shelf sign, "sell your customer up" by pointing out the differences. This is very easy to change out at the store level and is a great way to highlight product in a gondola run. I have personally seen sales growth of 25% or more by using this simple solution. Retailers and manufacturers often overlook this simple solution. It's great for the bottom line!
Donna Cossin, General Manager
We build Point of Purchase displays for quite a few customers. In many cases, the signage or branding is built right into the POP using graphics printed directly on the back panel. This is sometimes made available to us by the customer, but Midwest Retail Services can also provide custom printed back panels from our client's artwork. Either way, it makes for a very impactful display.
Matt Ray, President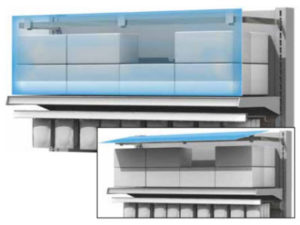 A prime area for signage is at the top of the gondola or wall shelving. Storage is always an issue for a retailer. Large backroom stock areas add cost and continue to shrink in many retail operations. Lowering the labor cost of stocking shelving is a key factor to any profitable retail store. Putting flip up signs at the top of the gondola shelving takes advantage of a great promotional space while allowing overstock to be stored closer to merchandising areas. When shelves need restocked, store associates can grab the merchandise from behind the sign and restock the displays quickly and easily.
If you questions about any of the gondola signage ideas featured in this article, or would like to hear some other ideas specific to your store — please contact us here or call our office at 1-800-576-7577.
(Visited 1,677 times, 1 visits today)