Getting More from Your Existing Displays: Brand Name Fixture Enhancement.
Just knowing what merchandising enhancements are available from your fixture distributor or manufacturer can help make your displays more interesting, and display changes more fun.
Prominent shelving manufacturers feature part of their shelving line to augment your merchandising efforts.  The challenge is, knowing what a fixture manufacture offers.  A fixture distributor is a great place to learn some of the basic and specialty display items they produce.
Shelving Extenders: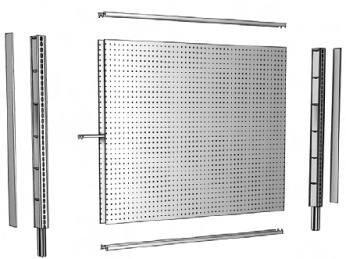 A popular display add-on is the fixture extender.  Extenders add height and extra display space without adding to floor space.  Simple in design and installation, existing display units need not be dismantled to install extenders.  Between each extender upright post are pegboard, slatwall, solid or grid panels for merchandising. Extenders can accept regular shelves.
Upright Extenders:
Lozier Extensions – Available Heights: 6", 12", 18", 24", 30", 36", 42" & 48"
Madix Extensions – Available Heights: 6", 12", 18", 24", 30", 36", 42", 48" & 54"
Streater Extensions – Available Heights: 5", 10", 15", 20" & 25"
Split Shelves:

Special split-shelves provide opportunities to create eye-catching displays.
Special shelves attach along the length of a fixture cross bar that has been inserted in a wall or gondola unit.
Use these to break up short sections of a display with shelf and peg products merchandised side-by-side.  Excellent for endcap displays.
Shelf Extender: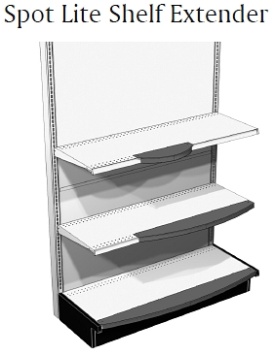 A useful shelf accessory is the spot-lite radius shelf extender.
These attach to the front of a standard perforated shelf to feature products.
These mini-focal points can be placed anywhere along a shelf or base shelf. Integrated ticket molding compliments the shelf for price tickets or signage.
Widths are 24", 30", 36", and 48".  Standard projection depth is 3" with 25 lb. max load.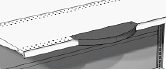 Concave & Convex Shelving: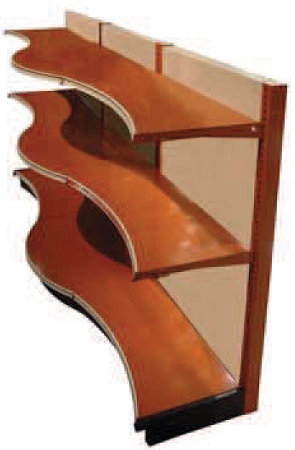 Stylish upper shelves and base shelves with concave and convex shapes afford another way to highlight merchandise and emphasize product categories.
Standard ticket molding included.
Concave sizes include widths of 24", 36" & 48" and depths of 10" to 24" in 2" increments.
Convex shapes are standard radius shelves.
Similar radius glass shelves can display lightweight, upscale merchandise.
Glass shelving allows light to pass through providing greater focus on merchandise.  Glass is tempered ¼" thick with a 100 lb capacity.
Sizes include 24", 36" and 48" widths and 18" depth.
Finishes:
Most steel shelves can have special finishes other than paint color.  Laminated and carpeted shelves are common and add to display ambiance.  You can select from many laminate colors, and wood grains, plus carpet colors.  Stainless steel shelf covers make a unique look for high-end products and act to protect shelf surfaces from abrasive or corrosive products.
Versa System:
Another display system called Versa converts existing sections of wall or gondola into multiple sections.  Select an existing 36" or 48" section and make two, three or four smaller sections within the same space.
Combinations of 6" up to 30" widths within the same section can create interesting displays and add visual interest.   Segment your small product categories into close-nit selling areas that promote super cross-selling opportunities.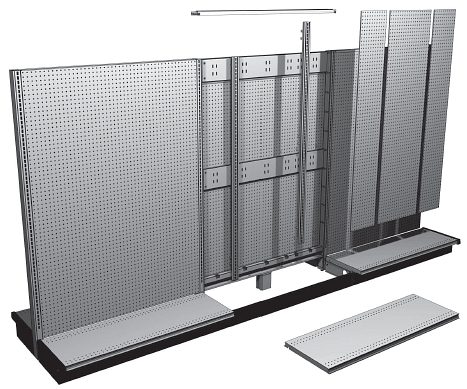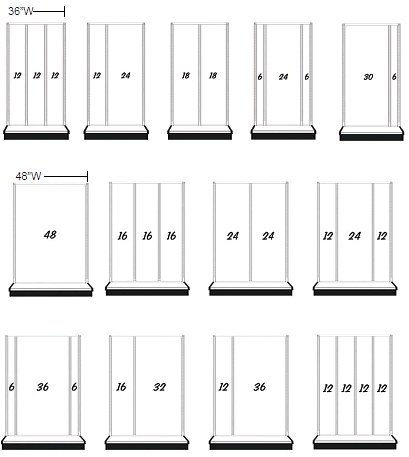 These examples are fixture brand specific and provided by Midwest Retail Services your shelving experts.  We encourage you to contact us for more information or to speak with one of our representatives about display enhancements.  We are as close as your phone, call 800-576-7577.
[msh_feedburner]
(Visited 423 times, 1 visits today)