Merchandising Accessories: Space Management and Visual Merchandising
Merchandising accessories are often a forgotten fixture category when considering a store shelving order.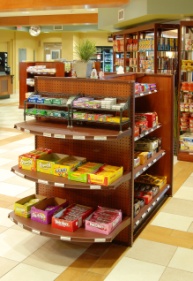 Thought should be given to how products or categories will be presented.  Merchandising accessories are separate add-on fixtures designed to maximize product presentation, save space, and increase product turns.
It is important to understand that some accessories are fixture brand specific, while others are universal fit across different fixture brands.
Brand name merchandising accessories are available only from the shelving manufacturer or authorized distributor. These accessories are designed to fit that manufacturer's brand of shelving best, but the offerings may be limited.  The challenge is having the brand name accessories to fulfill the visual merchandising requirements needed.
Universal fit display accessories are used to cross multiple brands of fixtures. This can be very important if your retail chain has different shelving brands in different locations.
Please keep in mind that color finishes of universal accessories can be slightly different from the shelving color.  Universal accessories can be multi-tasking displays used in more than one category of product, a potential cost saving benefit.
Universal accessories can unify displays together, keep merchandising uniform, and simplify ordering.
The Challenge:
Displaying hundreds of products in a finite shelving space demands flexibility in your accessories.  Many shelving manufacturers provide display accessories requested by large retailers, but they may not cover the full range of display needs for your store.  Better ways are needed to display existing products, and new strategies are required to exhibit new products. There are hundreds of unique display accessory fixtures being developed to address an ever-changing landscape of products. Your challenge is to analyze your merchandise and determine how to provide the best visual presentation and manage the allotted space.
The Solution:
Make sure you are not missing the obvious or the most cost effective solutions. The Midwest Retail Services strategy is one source to match fixtures with name brand accessories, universal multi-fit accessories, and custom specialty display accessories, when needed.
We offer domestic and import manufacturing programs to fit your lead time and budget. Let the team of professionals at Midwest Retail Services assist you in accessorizing your store!
Call today at 800-576-7577 or use this contact us link.
(Visited 196 times, 1 visits today)