Pharmacy Under-counter Cabinets for Workstations
There are many manufacturers of pharmacy cabinets with the same or similar cabinet configurations.
Ideally every Rx cabinet is designed to aid efficiency in filling prescription drugs, handling drug storage and files, and narcotic storage.  Careful selection of workstation cabinets enhances workflow for the Pharmacist and technician, matching to the tasks they perform.  This equates to faster script fills, reduced patient wait time, and overall pharmacy performance.
There are basic cabinets every pharmacy needs. Basic cabinets include:
Vial and bottle cabinets
File card units
Three, four, and five drawer cabinets
Sink base units
Printer cabinets
Open shelf and locked narcotic storage units.
Each of these cabinets comes in different configurations based on the manufacturer.
Virtually any modular wood cabinet configuration can be altered as required, and customized to size.  Because there are more manufacturers of wood cabinets, there are more cabinet choices and configurations.
Metal cabinets are available in either factory assembled or un-assembled units that need assembly upon installation. Factory assembled metal cabinets are durable with the advantage of welded construction. Metal units are also modular and offer long lasting baked enamel finishes.
Cabinet Design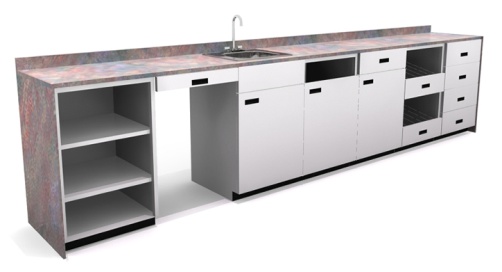 Metal pharmacy fabricators design cabinet configurations carefully because cabinets are mostly machine built.
Cabinets are modular-designed boxes where standardized shelves, drawers, and door combinations are inserted to keep costs down. Full extension drawers and electrical knockouts are usually standard.
Changes to a modular metal cabinet are limited.  Some metal pharmacy fabricators use a mounting track design to connect standardized shelves, drawers, doors and bins.
This is a more custom approach where each component can be mounted anywhere along the mounting rails. Metal Rx cabinetry is popular because they are long lasting and very durable.
Wood pharmacy fabricators have great flexibility in design, configuration, and cabinet size.
Standard features include full extension drawers, electrical raceways and European style door hinges.
Though standard sizes and configurations save money, making alterations to cabinet size and finish is not difficult or necessarily expensive. Popular design changes to pharmacy cabinets are size and finish.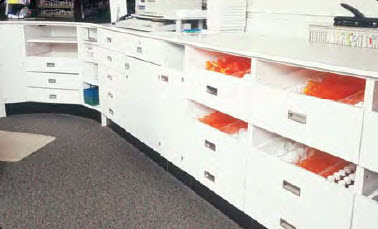 Cabinets can be resized changing length or height, and adding shelves, drawers, or doors as required in meeting capacity or workstation requirements.
Wood cabinetry offers more design flexibility especially where there are space and layout challenges, or where workstation technicians need specific cabinets to fit a particular need. Finishes are extensive with hundreds of laminate choices; a great advantage where décor design is a factor.
Whether you favor metal or wood pharmacy cabinets Midwest Retail Services offers unprecedented selections of wood and metal lines of Rx pharmacy cabinets to meet the needs of retail and hospital pharmacies.
[msh_feedburner]
(Visited 1,265 times, 1 visits today)