The pandemic of 2020 has changed many aspects of our lives and the way many industries operate.  The store fixture industry is no exception.  Stress points on labor availability along with material availability have made manufacturers rethink how they conduct business.  The paradigm that has existing for decades is shifting dramatically and retailers need to shift along with it.  
Gondola shelving manufacturers are changing their emphasis to larger retail accounts that can receive large orders to maximize production efficiency.  Not buying a full truckload of fixtures with each purchase?  Well, you are not alone.  This classification is reserved for very few retailers.  Many factory direct customers are going to rely on store fixture distributors for their store programs in the future.  While this may seem like a negative shift, it has some advantages for retailers and potentially reduces the headaches that has plagued factory direct customers over the past few years. 

Product Availability
Can't install your gondola shelving because you are missing parts like uprights or cross components?  During the last two years, factory direct customers have experienced surprise pop-up backorders even with crucial gondola shelving components.  With a baseline of stocked fixtures, distributors should be able to reduce this issue, and at the very minimum, communicate backorders alerts prior to the delivery date. 
Lead Times
In an industry that was accustomed to 4-5 week lead times, the 6-9 month delays occurring have been an incredible adjustment for everyone.  With manufacturers supplying stocking distributors regularly, lead times for many retailers should reduce to something easier for everyone to manage.  When retailers can forecast their needs, distributors are able to act as the buffer from factory to store and have fixtures at the ready when retailers need them. 
Accessory Items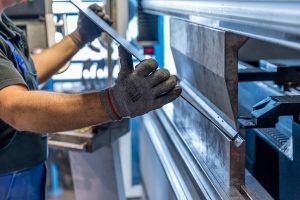 Many items that fixture manufacturers produced in the past are being discontinued. The days of gondola manufacturers making every merchandising widget for your shelving system are likely gone forever.  Factories are retrenching to focus on their core components and looking for the market to fill in the items they once exclusively produced.  Partnering with a store fixture distributor that has the capacity to design, develop, produce, and furnish store fixture merchandising accessories can help round out the gondola shelving merchandising strategy for your retail space, making it stock-ready and organized for shopping. 
Consolidated Shipments
Working with store fixture distributors provides an opportunity to consolidate shipments and reduce freight costs.  The ability to bundle peg hooks, slatwall, crossbars, dividers, and other merchandising accessories from multiple brands into a single shipment lowers overall shipping expenses and streamlines coordination for retailers.  One point of contact for order tracking instead of four or five allows buyers to focus on other priorities. 
The coming year will mark a major shift in the store fixture industry
When the dust settles the industry could be better and provide retailers with more options and greater flexibility than before.  In the meantime, there is potential for rough seas ahead.  If you are concerned with your retail store program and how to navigate the challenges ahead, please contact Midwest Retail Services to help you successfully guide you on the best path ahead.
(Visited 168 times, 1 visits today)