After such a long, harsh winter, it is safe to say that the majority of the country is eagerly awaiting the change in season.
Just as some excited people get their shorts out of storage the first time temperatures rise above freezing, consumers are bound to be especially excited this year for products associated with warming weather, longer days, and blooming flowers.
Retail stores operating with smaller spaces often have difficulty managing retail shelving and product placement in the first place. So, when it comes time to market seasonal products, they may have a tough time adding even more display shelving to their existing layout.
Size, type, and style of display shelving must be considered to accommodate the seasonal products. Business owners should not miss the opportunity to improve the consumer experience and excite shoppers in their stores.
Before making seasonal changes to your retail shelving, you will need to make sure that you have a long-term plan in place, not only for the next seasonal promotion, but for the one after that as well.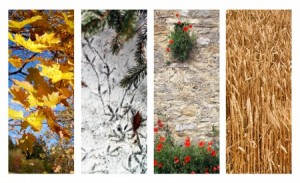 Before you add spring products, for instance, you will already need to start planning for the summer ones. Staying on schedule will help you to resist the temptation to keep products on your shelves too long.
Maintain your display until you notice a decline in sales and then refresh your display with comparable items or new product.   It is important to stay ahead of the game before your customers are attracted to a store that is already featuring the next exciting seasonal promotion.
You should use the shelving to display your seasonal products with a comprehensive approach.
Of course, seasonal displays should be strategically positioned in the store, capturing customer traffic both on the way in and on the way out. You may also scatter seasonal displays throughout your store, especially in high traffic spots, keeping product adjacency in mind.
Do not be afraid of annoying your customers, as chances are, you are giving them exactly what they want and improving their shopping experience overall.
Besides, positioning seasonal shelving around your store will allow you to fit more products into your store's existing layout. If you find yourself short on space, be sure to take advantage of your vertical shelving space. Put seasonal products that will pique interest in the selling zone –at eye level— then, add related products at higher and lower levels.
Since there is bound to be a great deal of activity around any seasonal shelving display, pay special attention to keeping your display clean with a fresh appearance.
Seasonal products will be even more attractive to your customers if they appear neat, organized, and new; like they are the first ones to get a chance buy them!
Whether it is cold medicine, sunglasses, or anything else, your seasonal products can help to keep customers excited, pleased, and coming back for more. However, you need to make sure they are being displayed effectively on the right retail shelving. For help with fitting any new display fixtures into your retail store, contact Midwest Retail Services for expert solutions today.
Email to info@mw-rs.com or call 800-576-7577.
[msh_feedburner]
(Visited 68 times, 1 visits today)