Are you buying a shelf or a solution?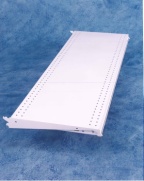 If the customer is always right, then the right thing to do should be to provide whatever the customer wants.
But is this how it's supposed to work?
A true professional goes beyond simply providing what the customer wants and solves problems the customer might not even know exist. Anyone can sell a shelf, but experts sell shelving solutions.
Understanding retail is necessary when providing merchandising solutions through display shelving.
The type of product, product dimensions, and desired inventory level are essential factors to consider when determining the size and type of display shelving required. When you factor in the size of the retail space and store theme, you'll find that obtaining a creative shelving solution can be an intimidating feat.
The right shelving solution contributes to a comfortable and convenient shopping experience for your customers. For retail merchandisers, this introduces the challenge of balancing product display requirements with the shopping experience customers expect.
So how does shelving contribute to a pleasant shopping experience?
For discussion purposes, let's match up a few sample types of retailers to shelving type, the store's goal, desired image, and customer experience.
| | | | | |
| --- | --- | --- | --- | --- |
| Type of Retailer: | Type of Shelving: | Goal: | Image: | Experience: |
| Deep discount | Standard, neutral finish | Low prices | Thrift | Bargains |
| Big Box | Deep, high, pallet, bulk | Volume | High stock levels | Selection |
| Grocery | Mixed, standard & custom | Quality | Service | Selection |
| Specialty | High-end looking, some custom | Targeted product | High quality | Exclusivity |
| Department | Multi-use & custom | Broad Appeal | Quality Value | Comfort |
| Convenience | Narrow, low to med height | Quick Service | High visibility | Quick Shopping |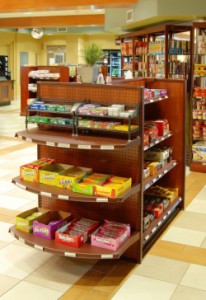 While these examples are basic match-ups, finding the right shelving solution is seldom this simple.
For many stores, finding the best shelving solution involves balancing many variables that ultimately target the store's goal, image, and desired customer experience.
These variables may include color scheme, ambient lighting, tall shelving for mass and volume, short shelving for specialty and intimacy, and attention-grabbing bold color. There are thousands of examples and ideas and just as many shelving solutions to match!
In order to find a shelving solution that suits your store's unique needs, you must first find a shelving professional who actively listens to your concerns and provides a solution accordingly.
For professionals, listening is essential to gather important facts and understand your ideas and vision before incorporating this information into your shelving solution.
If you just want a shelving unit, almost anyone will do.
For a long lasting display solution with imagination, impact, and flexibility, consult a professional.
For more information about shelving solutions and accessories, contact Midwest Retail Services today. Call 800-576-7577, use our convenient site link, or email us at info@mw-rs.com. A shelving solutions specialist will be available to help you! Our only goal will be creating your shelving solution.
[msh_feedburner]
(Visited 82 times, 1 visits today)