Online to Brick & Mortar Stores: Why Retailers Are Making The Change
Despite the success they have experienced on the web, more and more online retailers are setting up shop like other brick and mortar stores.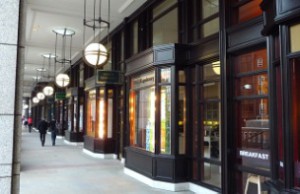 Retailers have determined through painstaking research that online purchasing by itself can limit overall selling potential and impede their ability to reach consumers.
At the end of the day, it's all about market share.
Even with the advancements in online selling technology and mobile apps, the majority of consumers -roughly 75% – prefer to visit an actual store when making a purchase.
There is something to be said for being able to touch products, feel fabrics, and browse a store's latest offerings in person.
However, spending-conscious shoppers often avoid in-store shopping experiences due to the greater potential for impulse buys. As a result, these shoppers rely on online shopping as a medium through which they can thoroughly research products before purchasing.
Striking a balance between online and brick & mortar shopping is the best way to support both types of customers.
Customers Enjoy the "Shopping" Experience
It can seem difficult to beat the convenience of making online purchases and having products delivered right to your door. But what happens when you open the package and see that the sweater you purchased in a medium actually fits as though it's a small?
To remedy the issue, you must now print off a return shipping label and drive to the post office to mail the package back. Had you visited the store to try the sweater on first, you would have avoided the added inconvenience and stress of the return.
By offering a tangible shopping experience to customers, retailers cater to meticulous consumers who prefer the in-person experience that only a brick and mortar store can provide.
Additionally, in-store shopping provides consumers with the opportunity to get out and mingle with others, an experience that online shopping simply cannot mirror. To maintain the convenience of online shopping with the unparalleled benefits of in-store experiences, online retailers will be combining these two retailing formats for the foreseeable future.
To keep your in-store consumers satisfied, make sure your store is organized and stocked neatly for peak performance.
[msh_feedburner]
(Visited 45 times, 1 visits today)