Building the Impulse Display: The Power of the Consumer Impulse Purchase
While many consumers spend weeks, or even months, researching products before making a big purchase, almost everyone spends money impulsively from time to time.
In fact, many people have revealed they make at least one impulse purchase every time they go shopping.  More often than not, these purchases are smaller items that the consumer was not even thinking about before entering the store.
While these purchases may only cost a few dollars per visit, over someone's lifetime, they may spend tens of thousands of dollars on impulse purchases.  A study found the figure to be a whopping $114,293!  As a retail store owner, you must capitalize on the impulsive nature of shoppers by paying special attention to how you set up your retail displays.
If you have any special sales or promotions going on, it almost goes without saying that these should be front and center when a customer enters your store. Shoppers don't like to miss out on deals.
They may impulsively-buy something right away rather than waiting, if they feel they are going to save money in the long run.
You should also orient your displays so brand new products are easiest to see. Impulse purchases are typically for new products that a consumer has never tried before. They are already coming to the store to pick up the usual items on their shopping list, so you need to make sure they will notice new products that they are not yet aware they want.
Your Impulse Display Strategy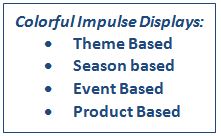 One of the best ways you can increase impulse purchases in your store is to create displays that easily catch the eye.
Your impulse display can be a theme, season, product, or a special event. In each case use color, graphics and text to augment the display.
Manufacturer supplied product displays may include all these elements.
But, what about the display fixture you already own?
What kind of fixture or accessory can you purchase that can be re-used again and again?
An effective solution is a generic display fixture or merchandising accessory that is flexible, able to accept color, graphics, and signage add-ons.  The fixture could be an existing endcap, or a new section of gondola shelving strategically placed. Even a small wire or slatwall floor merchandiser is also a solution.  Add casters for mobility!Be sure to use display accessories with these units to further enhance their effectiveness in merchandising the products differently or more boldly.
Some Examples:
Shelf talkers
Strip retailers
Shelf extensions
Colorful new back panels
Shelf ticket molding inserts
The Take Home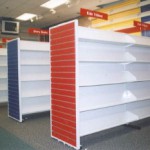 Research¹ indicates that up to forty percent of all consumer purchases are impulse sales.  And the fact is customers shop visually, responding strongly to colors, shapes, and images.  More facts: 90% of people make occasional impulsive purchases; the single most motivating factor for an impulse buy (88%) is a sale price; and, the top ten most common impulse buys are food, clothing, magazines, wine, books, DVDs, shoes, trips, beer, and toiletries.
Therefore, make your impulse display strategy an essential part of your overall store marketing effort.
These are a few suggestions to help you increase impulse sales in your store. Take a little time to consult an expert in display shelving and merchandising to guide you through your options to create profitable impulse displays.
For more information about impulse display shelving and accessory options, contact Midwest Retail Services today.  Call 800-576-7577, use our convenient site link, or email us at info@mw-rs.com.  One of our shelving experts will be available to help you.
(Visited 283 times, 1 visits today)