Matching Inventory to Shelving Size:Is the Shelf Half- Empty or Half- Full?
The sub-title borrows from the reference to a 'glass'.  Some say it 'depends on your perspective'.
In retail, that perception is what counts in creating your store image.  Shelves maintained full of fresh inventory conveys success; shelves' looking depleted of product looks less than successful.  Customers will notice and respond accordingly, deciding to return to shop or not.
Matching shelf size to inventory is important in forming your customer's perception of your store.
Stores that focus on wide assortments with modest inventory may use narrow depth gondola shelves, while a store focusing on product depth and volume will use shelving with larger shelf depth.  Matching shelf size to your inventory keeps the store always looking full; not half- empty or half- full.
Store Examples
Pharmacies focus on assortments to make sure customers can choose both generic and brand name products.
The goal is the wide assortment, not piles of any single item.  Shelving in pharmacies is traditionally shallower, with gondola shelf depths from 12" to 16".  Larger pharmacies that stock toys and games, for example, will opt for deeper shelving in departments where product is larger with higher volume.
Pet stores incorporate both narrow and deep shelves.
Narrow shelves are used for pet accessories like leashes and collars, with deep shelves used for cages or bags of pet food.  Shelf depth will vary from 14" deep to 30" deep or more.  Shallow shelving saves aisle space and accommodates wide assortments of small sized products not requiring depth of inventory.  Large sized or high volume products, that have sizable inventory requirements, necessitate the use of deep shelving.
Product Facing means?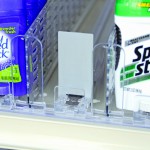 Product Facing, used as a verb, means the act of pulling products to the front edge of your shelf, helping shelves look full.
Used as a noun, means the number of identical products (same SKU) on a shelf turned toward the customer.  Merchandisers decide if certain products deserve single or multiple facings.
If shelf space is limited, a single product facing is used.  If the shelf is not deep enough then two product facings may be needed.  When creating a dominate category or brand perception, multiple product facings are desired, hopefully matching product inventory to the right size shelf. The goal is to always look full, even without a lot of stock.
Tip
Product pushers come in handy to help merchandisers keep that full look and make the shopping experience better for customers.  Fronting products helps customers find products easier, because all the items have an equal chance of being spotted.   So look around your store.  Do your shelves look full, or half-empty?
For more information to help match your inventory to shelving options, contact Midwest Retail Services today.
Call 800-576-7577, use our convenient site link, or email us at info@mw-rs.com.  One of our merchandise shelving experts will be available to help you!
[msh_feedburner]
(Visited 861 times, 1 visits today)