It seems like it's pretty much non-stop candy sales season from Halloween through Christmas to Valentine's Day and beyond to Easter! How were the candy sales in your store this past Halloween? Would you like to increase your candy and snack sales from right now through Easter?
This time we Ask The Team for their ideas on increasing revenues by improving the way your store displays these holiday treats!
Travis Potter, Customer Service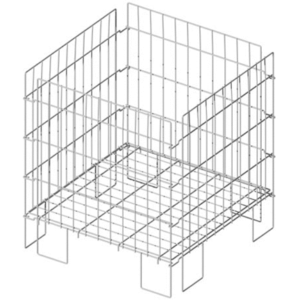 It seems like as soon as one holiday gets here it's over and a new one starts. This can leave store owners with left over inventory for the holiday that just passed by. With shelf space a premium it's tough to decide what to do with the new holiday inventory and the old holiday's stock.
Using Dump Bins to display discounted products gives you the advantage of displaying old inventory and frees up shelf space for the new inventory. The best example would be for seasonal candy. It gets the Halloween candy off the shelf and takes up minimal space in the process. Now you have space for the new Christmas candy.
Chris Bell, Sales Representative
I always recommended a seasonal display set up in the front of the store that could be changed out every holiday. This could be a run of gondolas, a 4-way merchandiser, or my favorite, a couple of gondolas on casters. This gives you the flexibility to move it around and place it exactly where you want it to be to get the most attention. It will get the customer thinking of holiday treats from the moment they walk through your doors! Dress it up with some signage or radius shelves and watch your sales grow! Give us a call, we have it all!
Gary Kroneberger, Sales Executive
How can you sell more candy? It's simple, keep it organized.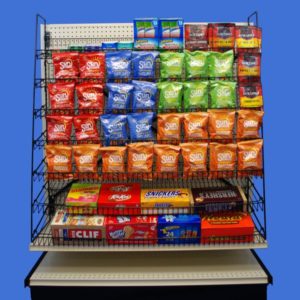 Many times your customers want to buy a sweet treat and simply can't find it. Midwest Retail Services offers several ways to merchandise your candy efficiently, attractively, and profitably. Our 3-shelf and 7-shelf candy and snack racks are perfect for encouraging impulse sales at the register. While this fixture can stand on its own, our custom designed bracket for these racks fit standard Lozier, Madix and Streater gondola shelves making it a truly universal option.
You should also consider one of our NEXT Pusher systems for inline gondola sets. Using a pusher system can typically increase your merchandising facings by 25% or more. Wire Dump Bins are also great ways to sell bags of candy in a power aisle. It's easy to stock and works great for every holiday. And don't forget about End Cap sales! Merchandise your candy for seasonal holidays throughout the store and watch your sales grow!
Matt Ray, President
Candy is always a big merchandising segment and holiday sweets, whether Halloween, Christmas, Valentine's Day or Easter, challenge retailers on how to maximize their opportunities. They key is getting the candy into high traffic and highly visible areas in the store such as front end caps or along the checkout.
Wire candy racks are lightweight and easy to place in temporary locations in order to take advantage of seasonal spikes. For larger amounts of candy and a more permanent presentation, the NEXT Pusher system front faces all the products and keeps the entire category nice and neat.
If your budget is limited and you want to utilize existing fixtures, look at using your current shelves in the down-tilted position with wire fencing or product retainers to hold product in place. It can create a better presentation with limited or no additional investment.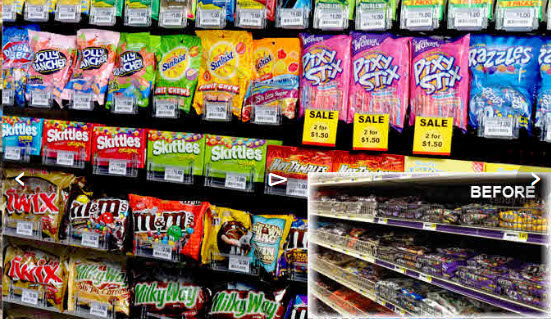 (Visited 647 times, 1 visits today)