Bulk Food Dispensers add value and product assortment for your shoppers while easily increasing your store's profit margins through the already huge and continually growing bulk food sales trend.
Customer Benefits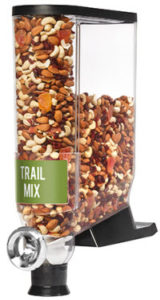 Customers state that having the ability to buy exactly what they need when they shop is a big advantage. With total global food waste estimated to exceed $180 billion in 2012, customer like the fact they throw less food away when they buy in bulk because they can buy exactly what they need.
Another way bulk displays increase store sales is by encouraging incremental purchases. It is easy and affordable for customers to try new products in small sample-size quantities. Even the portion control knobs can act as a way to actively engage customers in their shopping experience.
New BULKshop™ gondola systems like those offered by Midwest Retail Services provide multiple points of customer navigation, making it easy for your customers to identify the products they need (gluten free, sugar free, nut free, etc.) without having to wait for individual service from one of your store employees.
Retailer Advantages
Rather than having to carve out precious space in your floor-plan or have custom cabinets or fixtures built to house single-purpose bulk dispensers, Midwest Retail Services offers the BULKshop line of dispensers and bins that fit the standard Lozier and Madix gondola shelving you likely already have in your store.
Bulk Displays were touted as the #1 trending store improvement just a few years ago, because adding new bulk product merchandisers can increase retail sales between 25% and 35%. Retailers also save an average of 54% on material product and delivery costs when moving to bulk sales because they can simply fit more products on their delivery trucks.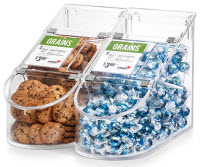 Bulk systems ensure freshness of product through their first in/first out (FIFO) dispensers and refill process, and portion controls further reduce waste/shrink of products sold through bulk displays — allowing more actual product to be sold to consumers — frequently at profit margins of 40% – 50%.
Bulk makes up more than 11% of supermarket candy sales and is growing at a rate of 15% per year, with the US retail market for bulk candy exceeding $2 billion, and bulk natural food sales topping 1.4 billion dollars in 2014.
BULKshop gondola systems provide a turnkey solution for integration of new products — no need to wait for category reviews or resets. If you want to test a new flavor or bulk assortment with your customers, simply swap out the product in the dispensers or scoop bins. The dispensers are very easy to refill and clean (they disassemble in just three steps) saving time and money in labor costs.
If you would like more details on how BULKshop bins and dispensers can enhance the look and merchandising capabilities of your store while increasing the average sale to each shopper, please contact Midwest Retail Services and with one of our friendly and knowledge fixture experts.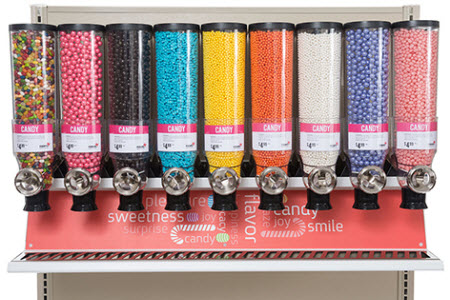 (Visited 1,165 times, 1 visits today)