Most all gondola, island or wall display shelving contains a form of back panel.
But, not all back panels are created equal nor do they all look or function the same.  The most common back panels are pegboard, slatwall, solid, and wire grid.
Pegboard, solid, or slatwall panels can be finished with paint, melamine, and high pressure laminates.  Most back panels are made from a high density fiberboard giving both strength and durability. There are some inferior back panels on the market today.
Please be aware that lower density can lead to warping and peg hook pull through.
How thick is your back panel?
Is it 3/16" or 1/4"?
Is the material thickness consistent throughout the panel?
It is important to use the correct back panel thickness and with the proper density to give you performance and durability.
Here is some basic information on back panels.
Pegboard Backs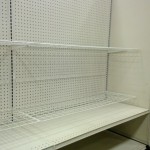 The pegboard back offers the flexibility to merchandise lighter weight products on peg hooks and use of various specialty display accessories. The holes are typically 1" on center.
A 48" wide shelving section of Lozier and Madix have 46 holes horizontally.
There are 47 holes on 48" wide Streater brand unit.
The thickness of backs will vary by manufacturer with 1/4" being the most popular. Some companies do use 3/16" panels which can result in more peg hook pull through when merchandising heavy products.
Available materials are MDF-medium density fiberboard, hardboard, and tempered hardboard.
Slatwall Backs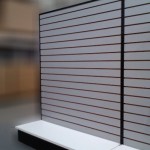 Slatwall back displays have horizontal grooves that are typically spaced 3" vertically. Slatwall is heavier because the board is 3/4" thick. Another option is 2" on center vertically, giving you more merchandising flexibility.
The most popular finishes are melamine, high pressure laminates, and painted to complement the interior of your store.
There are several types of groove inserts available from aluminum extrusions, plastic extrusions, plastic strips, high pressure laminate (HPL) strips, and having the grooves painted.
Aluminum extrusion inserts will add strength and give you a rich upscale environment.  Available materials are Anchor™ Core or MDF-medium density fiberboard.
Solid Backs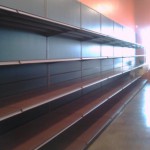 Solid backs can create an upscale look with wood grain melamine or high pressure laminates.
You can also have a color painted to match the interior theme of your store or match your fixture.
Solid backs are also good for printed images such as logos and store tag lines.
The thickness of backs will also vary by manufacturer, from 1/4" to 3/16".  Available materials are MDF-medium density fiberboard, hardboard, and tempered hardboard.
Wire Grid Backs
Wire grid backs are typically in a 3" x 3" grid pattern or in a tighter slat grid pattern. The slat grid pattern can vary from 1", 2" or 3" on vertical centers. Many hooks and accessories are available with a grid back system.
The grid back panels are powder coated and available in a wide range of custom colors.
While pegboard, slatwall, solid backs, and wire grid backs are the norm, there are a lot of custom choices available today.  They include metal groove backs, extended pegboard back assemblies, and custom grooved slatwall backs.
With all of the choices today, let Midwest Retail Services help you choose the right back panel for your store shelving. We will make sure you get a great quality back panel with the merchandising flexibility to make your display efforts a success.
Email to info@mw-rs.com, call 800-576-7577, or use this contact us link for questions or help.
[msh_feedburner]
(Visited 890 times, 1 visits today)