How Shelf Dividers Enhance Sales: Retail Display – Divide and Conquer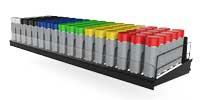 Simplicity and structure, it's how shoppers gauge ease of shopping, and today's retail owner has many display options at the shelf level.
It is amazing, though, how many stores do not employ this strategy or take advantage of using the right type of shelf divider.
Considerations
As labor costs rise, retailers respond using displays that require less maintenance.  Retailers can no longer afford excess staff to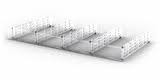 roam the store looking to straighten shelf products in disarray!
The goal is to minimize this task using display tools designed to increase sales through enhanced product presentation.
Shelving divider systems provide a simple and effective way of dividing up products on the shelf to conquer this display challenge.
Here are a few popular divider systems for standard shelving: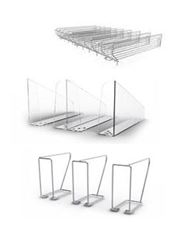 Wire snap-in dividers for metal shelving
Interlocking divider systems
Acrylic, Styrene, and PVC dividers for metal and wood shelving
Stick-on dividers for glass shelves
Slim style adhesive dividers
Dividers for slanted shelves
Pusher divider systems
When determining the divider you want to use, and how you want to divide up your shelf display, take time to think about how you want the display to look and function.
Some factors to consider when deciding on your divider system include:
Budget: How much do you want to spend?
Durability: Heavy product require stronger dividers
Height & Depth: How tall are your products?
Style & Color: Generally dividers fade into the background, highlighting the products
More than just a Divider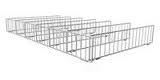 Divider systems do not just organize products on a shelf; they are more valuable than that. Shelf dividers separate products for visual clarity and improving the shopping experience.
The divider itself stops eye movement just long enough for a customer to discern the products being divided.  It provides structured, controlled eye movement.  The divider is 'felt' more than actually 'seen', as it provides space between products.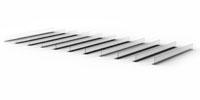 However, not every product on a shelf needs to be divided from another.  Sometimes you divide a small group of like products. The space the divider creates separates the group from another group, accentuating those products within it.  An example might be a display of candles. A small group of candles divided up by scent or color. Each candle does not need to be divided, but each group of candles is divided. Customers will see the group as one product rather than individual ones.
Besides, good merchandise presentation means controlling and segmenting customer's attention. It is all in how you want your customer to perceive your product display.
Controlling where the eyes start and stop not only helps a customer understand what they are looking at but also keeps them focused when deciding which item they will purchase.

Whatever your goal, for more information about shelf divider system options, contact Midwest Retail Services today.  Call 800-576-7577, use our online contact form, or email us at info@mw-rs.com.  One of our merchandising experts will be available to help you!
(Visited 530 times, 1 visits today)