The importance of the checkout counter in your retail store should be obvious.
After all, it's where the final transaction takes place. In a sense, it is the point of no return for a customer, and your last chance for a profitable add-on sale.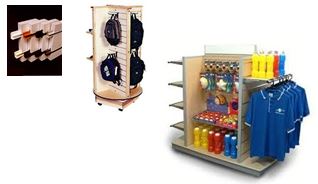 The checkout counter is the prominent "impulse buy" center of your store.
We all know of the classic impulse buy item.
Candy.
Many critics bemoan the idea of baiting children into begging their parents for a candy bar at the end of a visit to the store, but adults are known to avail themselves of a magazine or two as well (there's just nobody to beg).
Many retail stores have expanded upon the idea of the checkout counter impulse buy by providing everyday items like batteries, hand sanitizer, or packs of tissues. The goal is for the customer to think, "What's another couple dollars on top of the hundred or so I'm spending, and I need it anyway".
If you're not making the most of your retail store's checkout zone, you're missing out on a fantastic opportunity for small, last-minute sales that add up quickly. The proper approach for maximum effect is a combination of strategic shelving along with careful product selection. The most popular impulse display fixture is the half-gondola or short wall unit.  It is a practical display unit with heights and depths most suited for your checkout.
Add adjustable shelves along with available display accessories for proper product merchandising. At Midwest Retail Services, we have the impulse shelving products and the know-how to get you started with your profitable plan.
When deciding where to locate your checkout counter and corresponding impulse shelving, there are some important "shopping experience" factors to consider. Be sure that your checkout counter is not restricting customer flow through the entrance to your store. The first few seconds of a shoppers experience are very important in setting the mood. For this reason, the location of your checkout counter is important.
Factors include your entrance type, whether they are single or double doors.  For single entrance/exit doors place your checkout on the left as customers enter the store. Many common layouts have traffic flow bearing to the right when entering.
Make sure you allow your customers to be naturally drawn to the area on their way out.
It's also important to ensure that, once a customer arrives at the checkout counter, they feel comfortable. If the space is cramped it can reduce the accessibility to impulse products and cause the customer to feel rushed.  Impulse sales can suffer if a comfortable checkout space is not maintained.
Similarly, be sure to load the area with items that are often forgotten. Some stores train representatives to offer a few polite additions to a transaction based on what is being purchased.
If you are not quite sure how effectively to place the display units or display your packs of gum and spare toothbrushes at the checkout counter, do not hesitate to browse our website, or give us a call for more information. Our experienced staff at Midwest Retail Services are dedicated to providing shelving solutions that will help you get the most out of every part of your store.
Contact us today at info@mw-rs.com, or call 800-576-7577, or our contact link.
[msh_feedburner]
(Visited 519 times, 1 visits today)