Inventory Control Made Simple: Control at the Hook & Shelf Level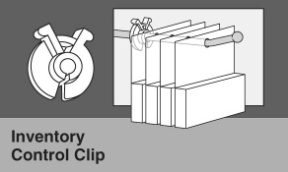 When you think of inventory control, you often think of software for managing inventory levels, or about cycle and end-of-year counts for tax purposes.
In the grand scheme of inventory management, it can be all too easy to overlook the importance of managing inventory on your sales floor.
Because most of your sales floor inventory is either displayed on shelves or retail hooks, we'll focus our discussion on inventory control at these levels.
Hook Level Control
An essential step in managing your sales floor inventory is the proper selection of display hooks. Hooks can be short or long, light, medium, or heavy duty, and are available with or without scan tags.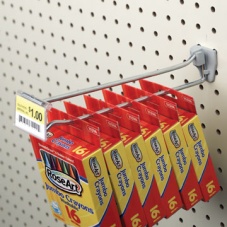 When selecting your display hook, consider how much product is needed at the hook level.
For example, you'll want to select a longer hook if you need to display more product.
Generally speaking, merchandisers will use similarly sized hooks on a display to avoid mixing short and long hooks. Hook length consistency in your display simplifies merchandising and inventory control, especially when inventory control clips are used.
Control clips are placed on display hooks to keep hooks flushed with product while controlling how many products are placed on the hook.
It's important to keep hook displays looking their best by fully stocking hooks with front-facing, well-maintained product. Product maintenance is especially pivotal.
For instance, the hook holes on carded products can become damaged from removing and rehanging the product. As a result, carded products may not stay on the hook.
Where possible, use mending tabs to repair damaged hook holes so that the product can be re-hung. If a carded product comes apart and cannot be fixed, consider removing it from the display.
Shelf Level Control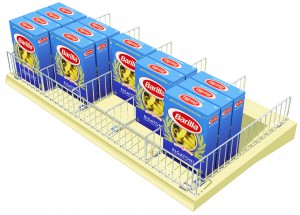 Maintaining clean, orderly shelves is a constant but necessary task for retailers.
As with hook displays, shelf size and display technique are determined by how much product is needed on a given shelf.
Retailers can utilize dividers and product pushers to keep displays looking full and aesthetically pleasing.
Additional merchandising accessories can bring structure and organization to shelves, allowing you to sell more products.
The proper merchandising accessories allow retailers to manage product spacing, achieve effective shelf- level inventory control, and keep displays looking full.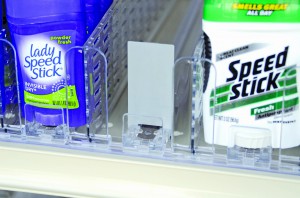 For more information about inventory control accessories, contact Midwest Retail Services today.
Call 800-576-7577, use our convenient site link, or email us at info@mw-rs.com. A display specialist will be available to help you!
Our goal is to help you control your inventory at the hook and shelf level.
[msh_feedburner]
(Visited 219 times, 1 visits today)