With only so much floor space to go around, flexible merchandising and display options are getting more and more creative. To keep shopper interest and curiosity high, mobile and modular floor displays allows retail stores the ability to literally change their layouts within minutes. The right combination of floor displays can move products out the door, increase sales within entire departments, and change the flow of shopper traffic through the entire store.
This week we get the Midwest Retail Services team of store fixture experts to share their personal favorite floor display fixtures. From tried and true gondola shelves to custom specialty displays manufactured to solve a specific client challenge, our team gives you a wide variety of ideas and options for you to explore in the world of floor displays.
Need creative ideas for retail floor displays?
Ask The Team!
Bob Richardson, Sales Representative
I really like four-way displays which include a wood base with pallet jack access, so it's easy to move around your store (also available with casters). Four-way displays allow your team to showcase items on shelves in four different directions and easily roll the display to different areas of the store. This floor display is versatile enough to work with just about any type of product and because the height is just 54″-60″ tall most customer can see over it, making it an ideal way to bring more product into existing merchandise area without overpowering or blocking existing product displays.
Gary Kroneberger, Sales Executive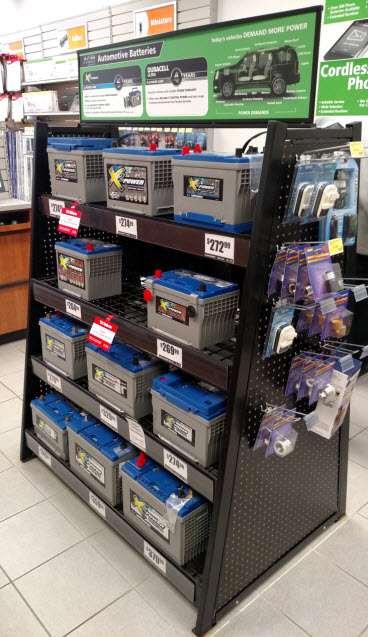 My favorite floor display is a Battery Rack that that was developed to meet a customer's specific need to carry 2,700 lbs. The foot print was 48″ wide x 30″ deep, 4 levels high, and had to be accessible from both sides. Each battery can weigh up to 90 lbs, making this rack very challenging to engineer and build. We originally thought we could make this a knock-down to save on shipping costs, but as the design process evolved we realized the only way to make this display was to weld the rack together in order to carry the customer's specified product weight load capacity. The Midwest Retail Services team went through four prototypes in order to arrive at the the ideal solution that worked for our client.
Typically, we never see weight load capacities like this on floor displays, and that is what made this display so satisfying to build (or shall I say conquer!) When you have a tough display to build, and want to develop a custom display to meet your needs, Midwest Retail Services is up for the challenge.
Mike Welsh, Customer Sales
The best floor display is probably the oldest and most used display, the gondola fixture. Whether it is a Streater, Lozier or Madix brand of fixture it doesn't matter. The flexibility of this fixture is almost limitless. You have the option of colors , heights, widths, depths, back panels, casters and countless accessories. Just about any option is available. if you want it, we can probably come up with the solution with the old standby, the gondola.
Matt Ray, President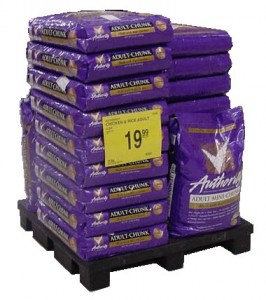 There are many ways to get merchandise onto the sales floor. One simple and inexpensive method is with durable plastic platforms or displays. Plastic bases hold up well over time, clean up easily, and are light to move around the store. They come in a variety of shapes and sizes to fit your specific merchandising needs.
Wood pallets may not be the correct size for the area you have pallets, they can damage floors, or they can splinter to cause a safety hazard.
Plastic displays are flexible enough to be used inside or outside. They are made of recycled materials and NSF certified. Durable plastic bases can be used in a variety of retail environments, including grocery stores, convenience stores, pet stores, and liquors stores.
(Visited 572 times, 1 visits today)