In 2014 I retired from the glamorous lifestyle of photographing weddings. I say glamorous because people looking in on that world believe it to be. You're running around in exciting places, beautiful venues and yes, sometimes surrounded by glamorous events.
It is the wedding industry.
A billion dollar industry at that.
What people seem to forget is that underneath that glamour is a lot of hard working people in what we call "the service industry". We're businesses serving clients, but also serving other businesses as well. As photographers, our product is not only our images, but the service we provide on the day you book us, the engagement, the wedding and then the delivery of images.
Not only that, we would also give our images (often as a gift) to other businesses who needed better exposure and marketing material than the photos they were taking on their phone.
So from business to business we would help each other out. We would give referrals where we found them necessary and relied on the ol' word of mouth strategy to help market our start up businesses.
But imagine if we could take that humble concept of marketing to an accelerated level. Imagine doing everything that you're doing now to gain exposure, good favor and positioning and scale it 3x, 10x and beyond. Imagine that even when you go to sleep you're still making a great impression on strangers left and right.
The answer lies in the untapped source of video marketing. Instead of taking one opportunity at a time by physically shaking the hands of people (which is great, don't stop doing that) you can also make the same or similar impression with your videos.
I left the wedding industry a while ago, but I still see this huge hole in marketing for businesses.
Here are 3 ways any retail business can begin utilizing video in their marketing to scale up their brand exposure, leads and sales.
1. Highlight / Sizzle reels
This is by far my favorite way to gain attention. The main component of this type of video is storytelling. Everybody can fall in love with a brand, business, or person if their story is compelling. The number one tip I give people on creating highlight reels is "how can you tell the story you want to tell, in the shortest amount of time possible?"
The highlight reel tell the hero's journey. Life is good, then something dramatic happens or a conflict occurs. Then after the struggle, hustle and blood the hero rises from the ashes. The audience feels that, and is given the opportunity to fall in love with your story and get attached to you, your business or brand.
Some ideas:
A video about your company and how you started.
A video about your team.
A video about your style or why you're unique.
A video about your own personal struggle and why your products are special.
A video about a new product.
Video of an example highlight reel I made myself:
2. Vlog series
Vlogs (Video Blogs) are a more underproduced/ raw type of video (though more and more vlogs are very high quality these days). You can see examples from pro vlogger Casey Neistat if you want to get an idea of top of the line vlogging.
Vlogs are a highly underrated piece of marketing material. For me vlogs aren't just for fun, they're the missing links in between you as a person and your business, which is lifeless without a face. Vlogging allows your clients and customers to see you as a human-being. It's not for every business owner, but it's definitely a way to show your personality, and personality my friend is something no one can compete with you on.
3. Facebook ads / Instagram ads
Facebook doesn't have the same organic reach it used to. It's direct advertising for a modern era, so it's really nothing new. Creating ads for your Facebook page can get the ball rolling if you're not acquiring new page likes easily.
I personally was stuck at 232 page likes back in July 2015, I was finally able to break through that plateau using videos posted directly to Facebook to gain more page likes and acquire "social proof". Depending on who's who in your industry, I would suggest that you try to campaign for as many or just above the page likes of your "competitors".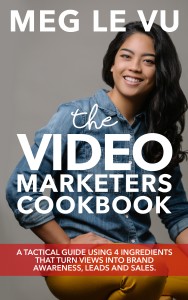 Now, I don't believe in competition, technically one can be me and no one can be you, however, you can't be blind to the fact that clients, customers and other businesses look at your social proof number, your reviews online, etc.
Currently writing this I have built my social proof number to 25K on Facebook, and while I know it's not all about the numbers, it's about staying relevant in your industry and making your presence known, lest you be lost to the thousands of small businesses that start up quickly and fall in three years or less.
Take advantage of what video marketing can do for you, even while you sleep (published videos will work for you forever). I've personally built my career off video, but also just really love making videos. I'd love to inspire you to feel confident about video and open the world of storytelling for your business and brand by visiting my YouTube channel where I have tons of free content for you to browse at your leisure.
For a more concise look into how I create video feel free to check out my new book The Video Marketers Cookbook by visiting http://thevideomarketerscook.com
(Visited 68 times, 1 visits today)