Over the past four years we took a family condiment and an idea and built a business. Joe's Sauces started out as a single product and this year, we will introduce our third to the marketplace. Looking back on over 300 in-store demos, ten food shows, and three years at some of the best farmers markets a budding food business could desire, it's clear: great in-store demos are vital to a product's success. Additionally, whether selling sauce, writing, speaking, or consulting, the education and experience gained from all the in-store demos has become an immeasurable asset that continually pushes us beyond our competition and dreams.
Product demonstrations are great opportunities for shoppers, stores, and brand owners to build community and drive sales. In a shift that may seem unexpected in our digital world, consumers crave the opportunity to connect with suppliers in a meaningful way. As internet sales continue to grow, stores create value in the shopping experience by bringing together brand owners or manufacturers with customers through meaningful shared experiences. To make the most of an in-store demonstration, follow these S.T.E.P.S. to strengthen relationships and drive sales.
SPACE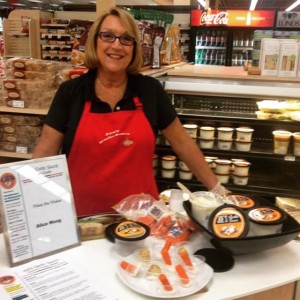 Space is a premium inside any store – it's not unlimited and some space is more valuable than others (end-cap vs. mid-shelf mid isle). When a product is demonstrated, the right space and right amount of space can make a huge impact on final results. Back corners, the front door, and other crowded spaces can make it difficult for customers and brand owners to interact. It's also not always possible to demonstrate a product right by where the product sits on the shelf. Instead, think of complementary areas and have portable shelf space so if the customer wants to buy the product, they don't have to hunt.
We ask our deli managers to set-up demonstration tables on end-caps or next to complimentary products where the space is more suitable for people to try the product and think about how they can use it with another product. Our products sell when paired with meats and breads so if ham or an artisan bread is featured, we take a spot next to those products and everyone wins.
TIMING
Timing is everything to everyone. 8-11am Tuesday morning is generally not a good time for any brand to demo, but it's hard to run six demos from 2-6pm every Sunday. Featuring BBQ sauce in January doesn't make a lot of sense in New York but it might make a lot of sense in Arizona. Work with your vendors and suppliers to pick the right seasons to feature the right products and then test results across six different time-slots to see which times work best.
We do not move a lot of our garlic sauce from 11am–12pm – it's too early. But from 12-5pm sales are great. Try to match customer taste and preferences. Cereal is great for the morning, but at 3pm it's more of a challenge. Now you have data to determine which products get featured when and then you can give the vendors logical reasons why you gave them their particular timeslot.
EDUCATION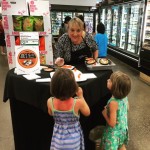 People buy when risks are mitigated and expected outcomes are clearly understood. One of the ways you can grease the skids before and after a demonstration is with mini sessions between staff and brand owners. If you educate your team, the product will move outside of the demonstration. Ask the brand owners for fact sheets, cooking ideas, and a run-down of the pertinent product info (Non-GMO Project Verified, USDA Certified Organic, Gluten-free, etc.).
Our products move the best in stores where staff understand and convey our value proposition and give customers ideas on how to use our product. Anecdotally, stores where our products move the most are stores that discount the least. They get velocity and profit because they know the product.
PROMOTION
An easy but often overlooked aspect of product demonstration is promotion outside of the in-store demo. With social media, it's easy and (generally) free to highlight what's happening in-store at any given moment. Drive attention to upcoming demos and build a level of excitement while creating a reason to connect with shoppers who interact on Twitter, Instagram, and Facebook. People love content and they want to be "in-the-know." Use these tools to raise awareness, increase foot traffic, and sales.
One of our grocery chains regularly runs a "meet the maker" event. They Tweet, Facebook, and send out Emails to their customer list to entice people to come into the store. Rarely do they need to offer a temporary price reduction during the demonstration because enough volume connects with the brand owner to meet reach the goal.
SYSTEM
Managing dozens of brand owners is a challenge and sometimes demonstrations don't always go as planned. A brand owner may be late, stock may not be available, or somebody isn't prepared. Additionally, a feedback mechanism can dramatically help the relationship between store and brand owner and impact results. Put some thought into how each brand owner interacts with your corporate and store people. Have specific rules of engagement, ways to communicate, and remedies for the most common challenges. Confirm expectations and assess results after each demonstration to determine if another event is worth-while and what needs to change to make it better.
Several times we have had demonstrations scheduled and there's been no product and a few times our demo team has had store mix-ups. This strains relationships and cost money. As a brand, one of the most effective things we've done is implement a demo report card that highlights expectations and tracks key metrics.  The demonstration specialist and category manager each fill out their portion of the card and they're returned to us so we can evaluate the event, catch problems quickly, and implement best-practices on a continuous basis.  Obstacles are mitigated and opportunities are exploited.
These S.T.E.P.S. can help make a good demonstration great, strengthen relationships, and drive sales. Every demonstration can be broken down into these categories and you should find easy ways to apply the lessons so your customers and suppliers experience the value you provide. Bad demonstrations can have long-lasting negative impacts, but regular, stellar demonstrations can set you apart from the competition and be a great recipe for success.
If you'd like a copy of our demo-review card, send an Email to: nick@imgkfoods.com — copy it, modify it, but ultimately use it because it will give you great data to help drive in-store demo performance and ultimately sales.
(Visited 554 times, 1 visits today)