There's no arguing that this is a magical time of year…
Snowmen brought to life by old top-hats, flying reindeer with shiny red noses, and pointy-eared-vertically-challenged humanoids with a talent for toy making (and dentistry) — not to mention a bearded cookie-addict in a red suit who has the power to make overnight deliveries to every household around the world (we're trying to hire that guy for our Shipping Department!)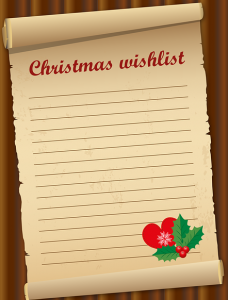 One of the holiday memories most of us have from our childhood is making a Wish List filled with all the loot we wanted to find under our tree on Christmas morning. We'd leave subtle hints around the house:
Catalogs (remember those?) open to dog-eared pages in the toy section
Very vocal and high-volume reactions to television advertisements for those same toys
Trips to local department stores to stand in ridiculously long lines to sit on the aforementioned fat guy's lap to pitch how good we'd been that year to prove how deserving we were for the long list of toys we were about to recite
And letters to Santa (in case he didn't remember us from our store visit) with a list of all the things we told him about in-person (maybe with a few back-up gift options listed).
This got us thinking…
What if your retail store or gondola shelves could make a wish list of what

they

wanted as holiday gifts?
We wondered what the shelves and fixtures in your stores might ask for if they were writing out a Christmas wish list, so we asked our Top Shelf Experts to put themselves in the base-shoes of the fixtures we sell and come up with an item or two they'd want to unwrap this holiday season…
Donna Cossin, General Manager
All I think of the holidays, I think of decorations! Especially all the pretty lights trimming the tree and decorating the outside of homes and storefronts, so I think store shelves might want the same sort of treatment. How about some Strip Lighting for fixtures to really make the gondola shelving sections pop and the product fly off the shelves! Midwest Retail Services have some really great light solutions for your store shelving — just send us a note if you're interested in hearing more.
Travis Potter, Customer Service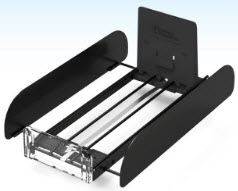 If I owned a grocery store, and would be able to ask Santa for one thing, I would ask for Pusher Trays. One of the time consuming task of maintaining a grocery stores, is facing the store. This is when you bring the product to the front of the shelf, and making sure the label is facing front, so the customer can see and reach the item easier.  With pusher trays you no longer have to face the product, the trays do that automatically whenever an item is removed. The pusher system also makes it easy to rotate stock. You would simply place the newer items in the back of the pusher trays. With these advantages I would want to use the pusher trays for as many items as possible and it would be great if Santa would help out.
Mike Welsh, Customer Sales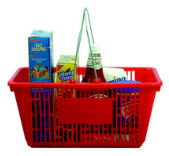 Most new pharmacies forget the little things that make shopping easier in their initial setup. One item I always get a call-back order for are Peg Hooks. Another item is Shopping Baskets — they're an item a new store owner may not remember to order, but it is the first thing a shopper looks for when they enter a store. I think Rx and drugstore fixtures would want to add those items to their wish list.
Chris Bell, Sales Representative
If I were a grocery store or pet store, I would give myself a Bulk Shop Shelving System. It is great for selling a variety of products, creating a sharp-looking new section within the store, they fit right on your existing Madix or Lozier shelving — and best of all retail bulk food systems increase store sales.
Need help wrapping these gifts for your store?
Give us a call at 800-576-7577 (or send an email to info@mw-rs.com!) and our Shelf-Elves will be happy to help you get these gifts wrapped-up and delivered to your door — with no messy reindeer to clean-up after (though we wouldn't say No to some cookies and milk…).
(Visited 149 times, 1 visits today)