I woke up this morning to the announcement that Dollar Shave Club, the monthly subscription service that sends razor blades costing as little as $1 per pack to your home, was purchased by the Unilever company for One. Billion. Dollars. (Cash!)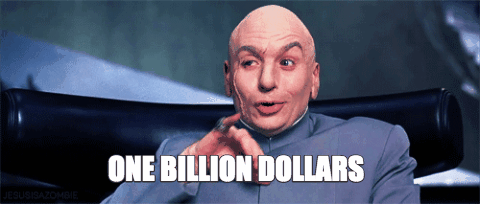 As a charter member of the Dollar Shave Club, I'm not surprised by the company sale price. I'm actually more surprised that the buyer was Unilever rather than my early prediction of Amazon.com. I always thought DSC seemed to be in alignment with Amazon's other acquisitions of Soap.com and Diapers.com. Factor in Prime membership, PrimeNow delivery, Dash button ordering, and I thought it made perfect sense.
On the other hand, this is a huge advantage for Unilever. Bringing Dollar Shave Club into its portfolio allows them a strong entry into the shaving market dominated by Gillette, whose parent company Procter & Gamble is still smarting from the slap-in-the-face delivered by Dollar Shave Club when it launched in 2012. P&G now admits that they never saw this disruption to their business model coming, and even though they've tried to fire back with the launch of their own razor delivery club (and a lawsuit against DSC for patent infringement) it hasn't slowed the fall of their share of the men's razor market to 59% last year, down from 72% in the year 2010 *BDSC (*Before Dollar Shave Club).
It's easy to point at Gillette and say the slow-moving giant got too cocky and too comfortable as the market leader, missing the inevitable signs that led to an upstart chipping away at their position and profits, but that's the thing about market disruption — You don't always notice it until the rock-solid ground you're standing on begins to give way beneath your feet.
P&G didn't see Dollar Shave Club cutting into its business, Blockbuster didn't think Netflix could best their own box office, Borders never thought Amazon would be a best-seller, and taxi cabs never believed Uber could take them for a ride. How'd all those situations work out?
The Dollar Shave Club Effect
Just for a moment, look at your business (your entire industry!) without using the lens of the experience you have amassed in your career. Neither of the Dollar Shave Club founders had an ounce of experience in the men's grooming industry or mail-order fulfillment. Mark Levine worked in manufacturing and Michael Dubin was a marketing guy who studied improv comedy (something pretty obvious from their original video which immediately went viral and generated enough traffic to crash their website on launch day).
They were just two guys who met at a party and somehow end-up talking about how they hated paying so much for razor blades — and then let their imaginations loose in order to imagine the possibilities for improving the situation, resulting in their million billion dollar idea.
Look at your own business through the eyes of an outsider.
It's tough to do.
Most decisions you make are based on the lessons you've learned and the mistakes you've made wisdom you've earned along the way. It's called experience, and it's usually of incredible value. But your experience can also cause you to be jaded to new ideas and blind you to new opportunities. After all, you've done okay for you and your business this far, haven't you?
Allow yourself some time — even just the time it takes to brew and drink a cup of coffee from your Keurig machine (another disruptor!) — to let your mind wander and reimagine your business without all the day-to-day baggage that goes along with actually running it.
Forget about your years of experience and all the lessons you've learned from being in your particular line of business, and consider it from an outsider's point of view:
What do your customers find annoying or inconvenient about shopping with you?
What would happen if that barrier were eliminated overnight?
Where can you borrow ideas and processes and technology from other unrelated industries and apply it in a way that improves your own business?
How would you respond if the Dollar-Shave-Club-for-your-category launched tomorrow and took a bite of your business?
Most people think about the way their industry originally launched and how it's grown incrementally over time, but too few business owners think in terms of evolutionary leaps.
The safety razor with disposable blades as we know them was patented by King Camp Gillette in 1901 and had remained largely unchanged (and unchallenged) for over 100 years, and then two guys spent a few minutes at a party imagining not how to improve the razor itself, but simply improve the way people bought them — and changed the industry virtually overnight (and their business model helped change a few other industries along the way.)
What innovative twist can you come up with for your business that will create an evolutionary leap forward?
(Visited 299 times, 1 visits today)