Are you having a difficult time finding replacement fixtures and repair parts for your Flex Frame and Flex Frame 2 Harbor Retail tobacco and smokeless displays? Items like Enhanced Header Kits, Cigarette Pusher Trays, Tobacco Storage Doors, and Base Shelves can be a challenge to locate, and you were usually stuck with whatever selection of used fixtures you could over-pay for on Craigslist or eBay.
Does your C-store, liquor store, cigar shop, vape shop or other retail store have a Harbor tobacco display fixture in need of parts? 
If so, your time wasted searching Google for Flex Frame and Flex Frame 2 parts and accessories is over!
Harbor and Midwest Retail Services have partnered to bring tobacco retailers and tobacco category managers easy access to Harbor Fixture repair and replacement parts and accessories.
The newly launched site created exclusively for ordering and fulfillment of Flex Frame and Flex Frame 2 parts can be accessed right now at https://harbor.poweredbymidwestretail.com.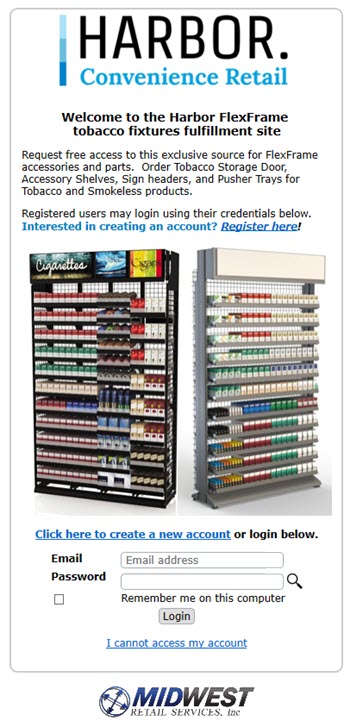 It's all right there in the website name: genuine tobacco merchandising fixtures from Harbor fulfilled and shipped by Midwest Retail Services, one of the largest distributors of retail shelving and fixtures in the USA. Our new website features all of the Flex Frame and Flex Frame 2 header and shelving components required to keep your tobacco and smokeless merchandise looking great for your customers.
At the new Harbor Industries Tobacco Fixture Fulfillment eStore powered by Midwest Retail Services, you can browse an entire selection of certified Harbor parts and accessories or use our site search to locate the exact item you're looking for in seconds. You can complete your entire purchase online 24 hours a day. 7 days a week, 365 days a year (366 days on a Leap Year!).
If you need a little extra help or advice on selecting the items you need, our team of fixture experts are available Monday thru Friday 8am to 5pm EST via email (info@mw-rs.com), or you can call us toll-free at 800-576-7577, or use our handy online Chat to get quick help right on the website when you need it.
Not sure which version of the Flex Frame fixture you have in your store?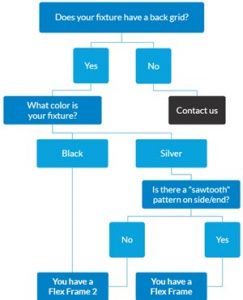 We've created an interactive tool to help you identify your Flex Frame model and link you directly to the parts compatible for your tobacco fixture. We even have downloadable assembly and instruction guides, and offer professional Tobacco Reset and Replacement Part Installation Services.
Click here to register for free access our exclusive Harbor tobacco fixture and fulfillment site today and you'll be sent your login credentials within 24-48 hours (usually sooner!).
Once you confirm your username and create a personal password, you'll have access to our online catalog of parts and accessories for your Flex Frame and Flex Frame 2 tobacco merchandising system. Here is a quick list of some of the items featured on the website…
Tobacco Storage doors
Lit Header assemblies and covers
Shelf bases
Spring-load Pusher Trays for Cigarettes, Smokeless, and general use Adjustable Trays
Need to place an order for a larger quantity for a multi-store refresh or to refurbish your entire chain of locations?
Just use the Contact form on our site to send us the details and we'll create a custom quote especially for you.
Remember…
This is an exclusive new website in the Midwest Retail Services family, so even if you have a user name and log-in for our public website you will need to register for access on the new Harbor Tobacco Fixture and Fulfillment eStore Powered By Midwest Retail Services.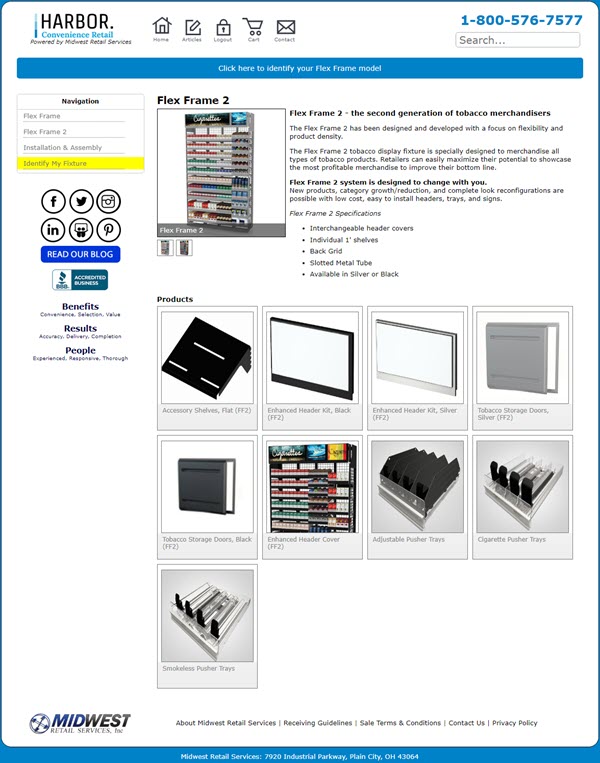 (Visited 1,046 times, 1 visits today)