Practical vs. Elaborate Displays
Ask a visual merchandiser or merchandise manager how to grab the attention of shoppers; their answers will reveal an insight about customer behavior and what makes consumers respond to store environments and displays. Even armed with this prodigious knowledge, budgets often limit their creative display efforts, challenging their creativity to work with the resources at hand. Therefore, a balance is struck between practical and more elaborate displays.
Elaborate Displays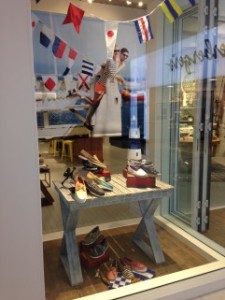 If you had to describe an elaborate display you may say it is highly structured, uniquely detailed and complex, or having a sophisticated flair. The display fixture used in the display could be custom made and designed to enhance a product or product category, or used as a focal point. The use of color and graphics in unique ways adds to attractiveness to draw shopper attention. Once you have obtained a customer's attention, the product merchandising takes over to secure a sale.
Not every display in a store can or should be elaborate, but used along with the theme of the store to create or add a level of excitement to the delight of your customer. Window displays are a mainstay for creating elaborate display themes to celebrate the seasons, an event, or special occasion. Today, however, the dramatic window display is not enough to bring in and keep consumer traffic. Retailers must continue the display excitement within the store, too.
Practical Displays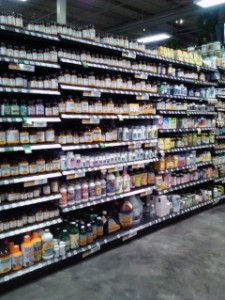 Practical displays, on the other hand, are the bread & butter of functionality. They maintain continuity of purpose; they can be fun yet functional. Words like sensible, appropriate, and effective come to mind too.   Though this type of display may seem dull, they can be fashionable and dressed up to add flavor to the entire store. Tweaks can be made that retain practicality yet be an attractive addition to a store's design theme. Practical displays are not designed as attention getters; rather they are used to add a sense of stability, grounding a customer's sense of place.
Display Personality
Whether elaborate or practical, visual displays still need to be executed in meeting a store's constant display demands. Every store owner or manager knows the importance of good display to convey the look, feel, and attitude (your store's personality) to your customer.   In the course of developing your store's display agenda, consider including a partnership with a company specializing in merchandise displays.   Keep your staff focused on what displays are required, then get with your partnered company to get them what they need.
To speak with a display consultant or to get more information, contact Midwest Retail Services today. Call 800-576-7577, use our convenient site link, or email us at info@mw-rs.com. A display specialist will be available to help you! Our only goal will be your practical or elaborate merchandising display solution.
(Visited 71 times, 1 visits today)