Proprietary Staging of Store Fixtures for Delivery & Installation: Program Benefits for Multi-Store Retailers
Multiple Challenges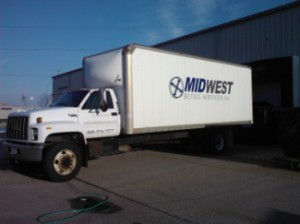 Retailers face many challenges when planning a single or multi-store remodeling program. One of these challenges is the delivery and installation of store fixtures.
A retailer can effectively plan if they know the fixture manufacturer they chose will deliver the display fixtures on the planned day and time required.  However, that required delivery date is subject to factory production schedules, often not matching the retailers desired install date.
The result?

The retailer works around factory dates.
And, what happens when the G. C. does not have the space ready by the projected date?

A change in delivery is required.
But, making changes to delivery dates is not easy since factories have little staging area to hold shipments.
A result is shipping the store fixtures to a holding facility.  This is costly, will involve multiple handling, often by untrained staff with limited equipment or facilities, and adding the potential for lost or damaged fixtures.
So what is a proprietary staging program?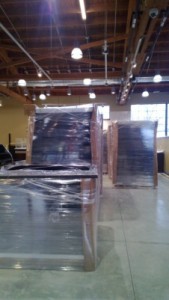 A valuable solution to on-time store fixture delivery is purchasing and planning your deliveries with an experienced display fixture distributor.  One that will build your order, stage it, and time your delivery based on your installation schedule.  If the site is not ready, place a quick and convenient call to hold your shipment or to reschedule.
Top fixture distributors understand what can happen with new store openings or remodels. Partnering between retailer and distributor is the key to effective proprietary purchasing and staging to insure the retailer gets deliveries made on time!
Multiple Fixtures
It is harder to schedule multiple shipments than a single one.
This is especially true with timed install dates or when site availability dates change.  Coordinating several vendors at once to match delivery dates, or handle changes in dates, can become challenging.
A multi-line fixture distributor that will coordinate, or bring in your displays from multiple sources, stage them for on-time delivery, offers a retailer an immense value.  For the retailer the result is… eliminating time consuming communications, savings gained in proper fixture handing, and prevention of unplanned deliveries.
Your Installers will Love You
Installers want deliveries made on time.  Many installers want trucks loaded such that when received, items will come off the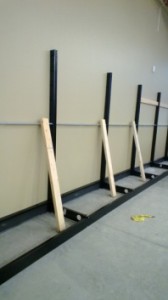 trailer in an order that facilitates assembly.  Find a company that will do that, and you can guess how they will feel.
Plus, time is money so helping your install crew to be more efficient, saves you money!  If you utilize a top multi-line retail shelving distributor, you can take advantage of these cost saving techniques, should your installer need them.
The answer: A proprietary staging program
All of the scenarios discussed can be addressed with this type of program, administered by an experienced company. Logistics is often equated with trucking companies.
The broader view is coordination of assets, facilities, handling, and shipping.
Midwest Retail Services understands the importance of this valuable commodity. We invite you to contact us for more information about our proprietary staging programs.  Contact Midwest Retail Services today, call 800-576-7577, or email us at info@mw-rs.com.  One of our shelving experts will be available to help you!
[msh_feedburner]
(Visited 228 times, 1 visits today)