Retail Slatwall Floor Displays: Benefits for Smaller Retailers
Retailers with limited square footage must layout their store carefully to fully maximize their retail sales space.
Each display fixture must fit and promote merchandise sales.  Add the need for display style and store image, and it all can become a challenge.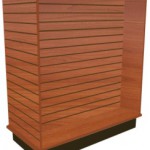 A great solution is slatwall floor displays.  They are efficient and provide an attractive way to display products. Their smaller footprint and mobility are great in tight sales floor areas.
These benefits allow greater flexibility to make changes within the store to meet merchandising needs.
Visual Appeal
Slatwall is a mainstay of style, image, and flexibility in any retail setting.  Hundreds of finishes and accessories make it extremely versatile. The horizontal grooves in slatwall are practical and visually appealing.  The grooves hold display accessories that can be placed at any point along the horizontal groove.  Slatwall floor fixtures, used in conjunction with matching slatwall panels for the walls, create a very attractive merchandising scheme.
Floor Shelving Options
Slatwall shelving units can be custom-built or pre-fabricated.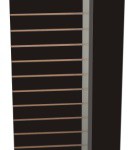 Custom-built means the sky's-the-limit because you can match size, functionality, and finish to precisely meet your décor and merchandising requirements. Units are usually pre-assembled and can have casters for mobility.
Grooves can have optional aluminum inserts for extra weight capacity or as a design element. Finishes range from low cost melamine, a wide selection of high pressure laminate, and natural wood.
Pre-fabricated displays have standardized sizes, styles, and stock color finishes.  Retailers choose pre-fabricated displays because they still get an upscale display unit at a substantial cost savings.
These pre-fabricated slatwall displays have casters for mobility and accept the same display accessories as custom slatwall units. The more popular pre-fabricated shelving displays include the Slatwall 4-Way, Slatwall H-Display (gondola), and the Slatwall Cube Display.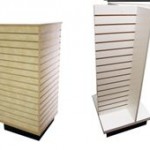 Standard finishes include white, birch, black, and cherry melamine.
Do-it-yourself fixture assembly can also be part of the cost savings for pre-fabricated floor shelving.  Knock-down fixtures, also known as KD fixtures, are easy to assemble and can save on freight costs.
Shelving Display Accessories
Many display accessories are available for slatwall shelving. They include acrylic bins, acrylic shelves, hooks, waterfalls, shelves (wood, wire, or glass), wire displayers, and sign holders.
Midwest Retail Services is a distributor of slatwall displays, slatwall panels, and slatwall display accessories.  Call 800-576-7577,  or email us at info@mw-rs.com.
THINK SLATWALL for floor displays!
[msh_feedburner]
(Visited 227 times, 1 visits today)