Traditional Widespan Shelving used for retail displays.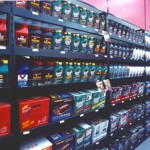 Never say, "I'll never use that kind of shelving".
Retailers have successfully used widespan style shelving to handle specific display requirements and it is not out-of-place in a retail setting.
Widespan shelving, however, should not be confused with pallet rack shelving, as they look similar.  Load limits are substantially different between them and pallet rack shelving has a bulky look while widespan is a slim design and much easier to handle.
Widespan sizes match closely with gondola shelving, and depending on the type of store, widespan will enhance the look and function of the store. Some examples are hardware, lawn & garden, lumber, automotive, office supply, pet supply, party supply, discount grocery and general merchandise stores.
For the look, feel, and display of bulk and value based products, consider widespan shelving.
Many Uses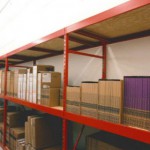 Heavy, bulky, or high volume products are perfect candidates for this shelving.
Widespan shelving can also be used as platforms with storage underneath. Standard Shelf decks are particle board, either sealed or unsealed.
Need to add color or create a softer look?  Decks can have colorful laminates or carpet.  Need more visibility for lighting or for fire code?
Wire decking is available in several patterns to fit your specific needs.  Manufacturers continue to add attachments and accessories to make widespan more flexible to handle merchandise.
Light kits can create better visibility and  highlight products. Need to display smaller items?
Pegboard inserts into widespan can add another dimension of merchandising.
Matching existing Fixtures
Widespan co-exists nicely with existing gondola shelving by matching fixture colors and sizes.
For better store design, match the lengths of gondola runs to the lengths of widespan runs.  Both can have different length growth factors. The most seamless approach is to have the widespan lengths and gondola shelving lengths match.
This is very helpful when placing gondola shelving back to back with widespan. This keeps traffic flow the same and allows end caps to be incorporated easily.
Customer Perception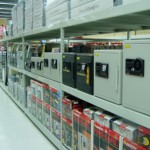 In the past, bulk display fixtures meant discount or even low-end merchandise.  The goal was to create an image of low prices.  Merchandising technique was not a major concern, just lots of product stacked on bulk displayers with signage focusing on price.
Today, bulk display fixtures, like widespan, are effectively mixed in with regular shelving to create a new perception of value pricing.
Retailers now segment product categories using regular and specialty shelving for higher end products while using bulk fixtures to highlight other value based product categories.
This achieves a balanced perception of great product selection and value pricing.
Midwest Retail Services offers gondola and widespan shelving, and can help retailers mix these two styles of fixtures into an effective merchandising scheme.  Call 800-576-7577, use our convenient site link, or email us at info@mw-rs.com.
[msh_feedburner]
(Visited 738 times, 1 visits today)