As we continue our series of sharing the best ideas for utilizing retail fixtures in your store, this week Midwest Retail Services turns our attention to Slatwall panels and Slatwall accessories.
What is Slatwall?
Wikipedia describes Slatwall as a building material used for wall coverings or display fixtures. It consists of panels made with horizontal grooves configured to accept a variety of merchandising accessories. Panels are typically made from medium-density fiberboard (MDF), with melamine paper pressed or laminated as a finish on one or both sides. Grooves are then machined into the board and painted or fitted with plastic or aluminum inserts.
But that's just the beginning!
Recent technology and manufacturing advances now allow us to offer a much wider variety of finishes, including wood veneers and dye sublimation application of custom digital graphics (such as photographs, merchandise and department images, and corporate logos). You're also not limited to traditional MDF boards, ask your Midwest Retail Services expert about Anchor Core™, PVC Slatwall, and aluminium inserts for added durability and load strength.
Our team has decades of experience in every retail niche imaginable and enjoy putting their combined knowledge to work for you in answering this week's Ask The Team question…
What are some good ways to use Slatwall fixtures in my retail store?
We're glad you asked!
We posed the question about to our crack team of retail fixture experts and they came up with some great ideas and options.
Chris Bell, Sales Representative
Slatwall is an economical way to give your store a nice upscale look. I have customers that have outfitted their entire store with Slatwall and some that have used it to simply enhance certain departments.

For example, you can install black Slatwall in the Liquor department and then put white Slatwall in the Housewares section, and use a cherry wood finished Slatwall in the Books section. There are many color options and metal insert choices which can be used to give your store a distinct look.
Gary Kroneberger, Sales Executive
Slatwall is a great way to enhance any area of your store. I can be used on walls, gondola shelves, and freestanding displays. Some of the most common retail uses for which I've recommended Slatwall are in drug stores, gift stores, apparel stores, and book stores.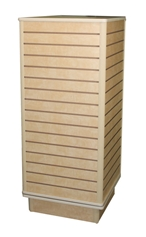 Slatwall gives you the option of going with stock off-the-shelf finishes or a custom finish. Stock finishes are typically painted, melamine, and high-pressure plastic laminates. Custom finishes are a great way to incorporate the colors of your brand. Slatwall affords you a great amount of flexibility in transforming an area of your store with minimal labor, going from waterfall faceouts to shelves. Most Slatwall is manufactured 3" on center vertically, and you can utilize many different types of inserts, from steel, to aluminum, to plastic, to a custom color strip. Let us help you find the options that will best meet your needs.
Mike Welsh, Customer Sales
Slatwall can add color to an ordinary store fixture and create a completely unique look for your store. Recent improvements have increased the amount of weight Slatwall fixtures can handle (like Anchor Core™). Slatwall can be used for almost every situation in which Pegboard is used. We can groove Slatwall in a variety of custom configurations to meet your merchandise requirements, and there are almost infinite color choices — we can even print full-color photographs or your store logo on Slatwall for you!
Most of my customers either attach Slatwall directly to a wall or insert it into their gondola shelves/wall units. Slatwall is typically used in gift areas or in durable medical equipment (DME) sections. Adding either plastic or aluminum inserts to your Slatwall can add additional strength along with a contrasting color to add panache to your panels.
Pegboard panels may be a little less expensive, but the flexibility in customization of Slatwall can be a huge advantage. Give us a call and we'll create a custom quote for you to compare.
The experienced professionals at Midwest Retail Services can help you find the solution that will work for your unique situation. Just give us a call at 800-576-7577 or email us at info@mw-rs.com. 
(Visited 404 times, 1 visits today)