Once upon a time I bought something.
After I made the purchase, I had an issue. Oh no, whatever will I do? I guess I'll call their service department. Google number. Dial. Ring. Ring. They Answer. Hello. Explain. Chat. Chat. Smile. Wow! Smile bigger. Hang Up. Do a happy dance. Reflect: "They had the most unbelievable customer service. I will do business with them again and again and again."
The End.
That's the service fairy tale. The one you dream of when you experience an issue with a purchase. When you spend hard-earned money, your expectations should be met. You're the customer. You're always right, even when you're wrong.
On occasion, you will get to experience your own Cinderella service moment, the day that the service fairy tale does come true. They may be few and far between, but when it happens, it makes your headlines. And, you tell everyone.
Speaking of fairy tales, I went to a black-tie optional gala this past weekend. I don't do optional. The need for a gown was imminent. Enter Rent the Runway, a multi-million dollar, six-year old business that totes: "The world saw a dress. We saw an opportunity." And that they did, and they did it so well, every business should take note.
What to takeaway from Rent The Runway (RTR)
1. Innovation based on need. The founders of RTR, two classmates from Harvard, saw a need and capitalized on it. They understood the fundamental truth: women want to wear designer gowns without paying a designer price. With that knowledge, they created a business model that allowed everyday women with everyday budgets to rent their way into feeling like a million bucks for any occasion. What do your customers want? What are your customers dreaming of? Make your customers dream a reality and you will win.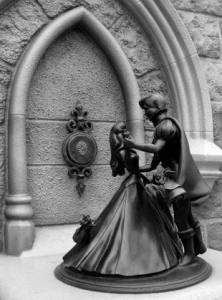 2. All-Inclusive. RTR is the ultimate one-stop shopping experience. While most customers land on their site to find a dress for an upcoming special occasion (they have dresses that start as low as $40), they also have rentals for everything you could need to finish your look: jewelry, handbags, outerwear, hats, and sunglasses. Need shapewear, intimates, hem tape, or makeup? RTR makes it available for purchase. Ain't nobody gonna want to wear a used pair of Spanx. Their newest offering, a monthly membership for accessories, is being described as the "Netflix of fashion". They've covered the entire basis. Including suggested styling online for each dress. A stylist line you can call with questions, and a pre-labeled UPS envelope to send everything back in. They make it easy to buy, incredibly easy to buy. How inclusive is your business? Are you providing the ancillary needs that should accompany your products and services? Are you a one-stop shop or just stop number one on the shopping spree of your customers?
3. Customer Testimonials. 99% of the dresses available for rental have customer reviews. These are not your typical reviews; they are the most thorough of all customer reviews. These testimonials include a picture of the renter, a real woman, wearing the gown along with her measurements, height, weight, size worn, and a summary of her own thoughts about the dress. I've treated these testimonials as the gospel truth. If a renter of my same height says the gown is too short, I immediately write it off. If a renter says the gown was too itchy, I immediately write it off. If a renter says the lace overlay was too restrictive, I immediately write it off. A gal has to be able to eat. These customer accounts are powerful and they help guide prospects into making the best decision possible. How are your customers working for you? Are they happy to write a review of their experience doing business with you? Do you even ask? The RTR review platform is easy and automatic. How's your customer review platform?
4. Corrective Service. Dress not up to your quality standards, don't feel it looks like it did in the photo, doesn't fit (gasp!)? Not to worry, RTR has one of the best corrective service departments I've encountered. The first time I purchased from them, the dress had a nasty snag that couldn't be fixed. I called. They answered. It was too late for them to overnight me something for the special event, so they gave me a 100% refund, no questions asked. For this past event, several women that used their service didn't like the fit of the gown. Over and over, I was told when they called RTR; the service representative listened, empathized, gave a dress consultation and offered to overnight not one, but a few alternative dresses for them. They fixed the mistakes, even if the customer caused them. How outstanding is your service? Are you shipping happiness overnight to your customers? Are you over-correcting the issue to leave a lasting positive impression?
Service over everything else creates repeat sales. But don't take my word for it. One of my friends, also named Stephanie, also used RTR for the same gala event. Her thoughts on the experience, "I have a 50% success rate when shopping online for clothing. I wish all online clothing stores had that many real customers photos and reviews. It was so helpful seeing a gown on so many different shapes and sizes. When I called after my first shipment failed, customer support was spot on. I'll probably call a stylist before I place my first order from now on."
Looks like she'll be doing business with them again, as will I. With each gown, their profits will grow. Yours can too. It's your time. Time to innovate, expand, gain customer reviews, and serve to a standard of excellence your customers expect. Time to provide your own service fairy tales so you, your customers and your profits will live happily ever after.
Stephanie Melish is one of the few, hand-selected, Gitomer-Certified Speakers is the ONLY Double-Tall, Non-Fat, No-Whip Sales Barista in the world! Stephanie trains, sells, and speaks to companies and associations all over the country. Click here to inquire about booking Stephanie for your next training event. 
(Visited 123 times, 1 visits today)